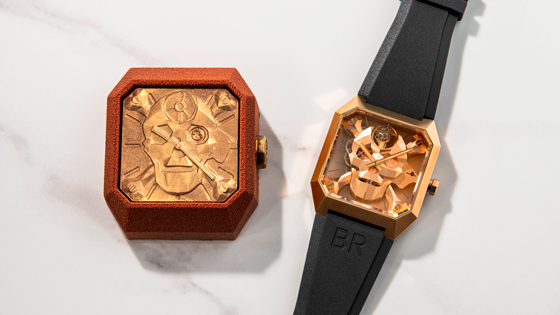 Celebrating the arrival of the BR 01 Cyber Skull Bronze, Julien Dugourd, the prominent pastry chef and friend of the Maison, undertook a feat of virtuosity to design a pastry version of the Bell & Ross timepiece. A pure indulgence in the brand's image.
Savour each passing hour: such is the philosophy that the co-founders of Bell & Ross, Bruno Belamich and Carlos Rosillo, share with Julien Dugourd. A great lover of watches, particularly Bell & Ross designs, the pastry chef chosen by the Prince's Palace of Monaco, not to mention member of the very exclusive Club des Chefs des Chefs, has created a chocolate-caramel cake using the stylistic codes of the new BR 01 Cyber Skull Bronze.

While the BR 01 Cyber Skull has a highly sophisticated design, the cake created by Julien Dugourd is no less complex, with a composition of several layers to form a sandwich-type watch case. This cake is a faithful reproduction of the timepiece in pastry.

The base of the cake consists of a Caribbean crisp, topped with a delicately caramel-coated chocolate biscuit. The two are surrounded by chocolate mousse. The whole is embossed with cocoa butter, coloured with natural ingredients to create a bronze effect. A small chocolate wafer sprinkled with gold duplicates the skull emblem, which sits on two shin bones. Borne by pirates and D-Day elite paratroopers, this Jolly Roger insignia is the stylistic signature of the BR 01 Cyber Skull watches.
May 17, 2023