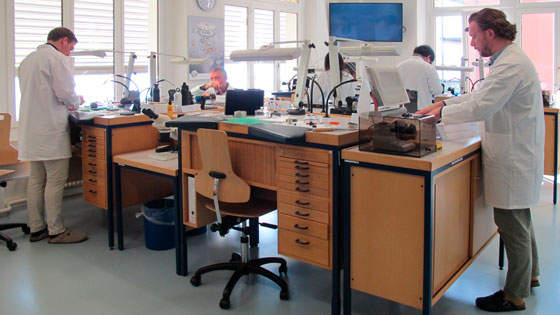 The neutral and independent WOSTEP Foundation is a school enjoying worldwide recognition as a benchmark centre for watchmaking education and training. It is constantly adapting its renowned training courses to the needs of the industry beyond national borders.
They are young or not so young, mainly foreigners along with some Swiss students and above all they are passionate about watchmaking. They come from Taiwan, Canada, Hong Kong, the Netherlands, Brunei, Eastern Europe and the Mediterranean region and they all attend courses at WOSTEP, a training centre world-famous for its courses specifically designed for Swiss companies, as well as for their subsidiaries abroad.
Created in 1966, the first WOSTEP courses were attended by North American watchmakers. Four years later, they were opened to the whole world. In 1986, the institution became a non-profit association with 23 members. Several training courses, which until then had been given only in Neuchâtel, also began to be taught abroad in the 1990s. As of 2023, more than 600 watchmakers and polishers have completed a certified course and obtained their diploma from the WOSTEP Foundation in Neuchâtel – and some 2,700 watchmakers are also certified through partner schools.

Modular courses
Taught in English and some in French, the training programmes cover a wide range of profiles required by the industry, such as watchmaking operators, customer service watchmakers, watchmakers or polishers... the list is by no means exhaustive. The Foundation also provides courses for trainers in watchmaking schools or in after-sales service departments abroad. In order to adapt to watch companies' requirements, the curriculum is built on a modular teaching structure, thus enabling learners to choose the appropriate programme according to their career path and current professional needs. Students can follow the modules in sequence or separately – a flexibility that is highly valued today.
Whether for watchmakers or polishers, the courses involve different stages of study, depending on the needs of the learner and the time available. They all end with an examination at the end of which an attestation or certificate is issued, a title recognised by the Employers' Convention of the Swiss Watch Industry (CP).
Short "à la carte" courses
WOSTEP also offers a wide range of short courses lasting two to three weeks. They meet brands' specific needs for rapid employee training. Precision rating of the Swiss lever escapement; theoretical and practical knowledge of the chronograph; acquiring a better grasp of Schaublin lathes... These are just some of the courses that enable professionals to fine-tune their knowledge.
Personalised training
In order to complete its offer, the school also offers multipurpose practical and/or theory courses that can be developed and set up at the request of watchmaking companies.
Worldwide partnership
WOSTEP has entered into a worldwide partnership with a network of watchmaking schools and competence centres that train and provide regional markets with certified professionals. These international schools base their curriculum on the one in Neuchâtel, thus offering the opportunity to obtain a certified training recognised worldwide. To date, and following the pandemic which brought its share of changes, the following schools are in partnership with the Neuchâtel centre: the three Nicolas G. Hayek Watchmaking Schools in Miami, Shanghai and Pforzheim; Glashütte Original Uhrmacherschule "A. Helwig" in Glashütte; the British School of Watchmaking in Manchester; the North American Institute of Swiss Watchmaking in Fort Worth (Texas); the Faculté des métiers école d'horlogerie in Fougères (France); La Passerelle in Cluses (France) and Urmakarskolan in Motala (Sweden). In addition to the practical training given in their respective schools, learners can follow the courses, do exercises and even take their exams digitally.
WOSTEP Foundation
Both neutral and independent, the WOSTEP Foundation is supported by six active members: Audemars Piguet, LVMH, Patek Philippe, Richemont, Rolex, Swatch Group. For the past three years, it has been headed by Johann Kunz-Fernandez, who has a solid background in watchmaking.
Johann Kunz-Fernandez began his professional career with the Société de microélectronique et d'horlogerie (SMH), for which he worked across a ten-year period in Switzerland, Spain and Japan, on behalf of Tissot, Certina and Mido. He then served for ten years as director of Richemont's customer service in Japan, before returning to to the Vallée de Joux, Switzerland, where he spent five years as director of customer service and then of customer care at Audemars Piguet. He then served a further nine years in Dubai as Director of Richemont Customer Care Middle East, India and Africa. Since 2020, he has been at the helm of the WOSTEP Foundation.
March 16, 2023