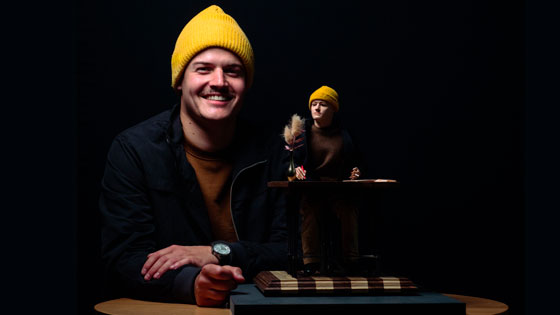 Hugo Rittener (Photo: Nikolaï Porchet)
Hugo Rittener welcomed us into his small workshop in the Jura-Nord Vaudois region, where he gives life to his automatons, such as the Le serveur de thé (The Tea Waiter) or L'écrivain (The Writer) – a double of himself. With each new creation, he marvels at the moment when his fascinating objects come to life in his hands after many long hours of work.
It all began in the back of his father's garage, when Hugo Rittener, who was very good with his hands, decided to set up a DIY workshop at the age of 15. When it came time to choose an apprenticeship, he naturally opted for a manual trade and thus trained as a polymechanic in a cement factory, far from the world of watchmaking and microtechnology. At the age of 17, while completing his apprenticeship, he discovered through videos the beauty and purity of the mechanisms powering automata. It was a revelation for him and from that moment on, he knew that he would steer his career in this direction. But not just anyone can become an automaton maker – and it was to be a long journey!
In order to broaden his knowledge of mechanical production and design, while moving towards the world of horology, Hugo worked for a few years as a prototype maker for a metallurgy company, then in the watch industry in the Vallée de Joux. He nonetheless remained eager to create automatons and to combine the world of mechanics with that of poetry. As a classic self-taught individual, he therefore decided to set about doing just that.

Before venturing into the complexity of automaton mechanisms, Hugo Rittener began by building a table clock, a similar yet less complex instrument. He ended up deciphering the mysteries of horology through a first timepiece that he designed almost entirely himself: bridges, gears, dial and hands. Even the ash-wood base was hand-crafted by this artisan who is passionate about all materials and revels in the new discoveries arising from each occasion to work with a new one.
After making two table clocks, it was time for the young designer to start building his first automaton... which was to be a tea waiter! When Hugo Rittener develops a new creation, he visualises it in its entirety: what will its functions be? How big will it be? What volume will it occupy? With the help of digital reality – a field in which he is also self-taught – he draws each of the components using Fusion 360 software. Based on these technical drawings, he creates the mechanism of his future automaton part by part. For certain operations, such as making the face, he collaborates with a regional artist specialising in 3D, while a seamstress friend makes the clothes for a given character.
Watching a work of art come to life is an enormous source of pride for this youthful creative talent. After hundreds of hours of work, the satisfaction of finally seeing the created character come to life immerses him in a world of dreams.
When this first automaton was born, the question arose: what next? Driven by a thirst for discovery, Hugo Rittener raised the bar and decided to design the entire character single-handedly. What functions would he give it? He didn't need to look too far and simply created a double of himself, which proved fairly convincing! Using the same process as The Tea Waiter, he developed the 470 or so mechanical components himself. In addition, he designed the clothing and the face, on which the eyelids are for example made of lambskin, one of the finest leathers available. In addition to all the work that went into designing the automaton, Hugo spent hours painting the face of his double so that the likeness would be as realistic as possible. In the end, this humanoid moves its body, turns its head, closes its tiny eyelids, writes with its right hand and taps its cigarette in an ashtray with its left hand. The cycle of movements lasts one minute and 20 seconds and is repeated, all to the accompaniment of a melody from a 36-blade music box. Hugo lavished countless hours on making this automaton. It is a passion, almost a drug, a need to create that keeps him going.
For a year now, Hugo has been lucky enough to combine his passion with his daily life. He plies his trade alongside François Junod, a well-known automaton-maker in Sainte-Croix. In this other workshop, he has discovered new facets of the trade and also specialised in the creation of more complex automata. For example, the Fontaine aux Oiseaux by Van Cleef & Arpels, unveiled at the Watches and Wonders exhibition in March 2022, is a magnificent display of two birds flirting at the edge of an animated fountain.
Today, this young creator is proud to work for this mechanical art that is returning to the forefront of the stage through the great watchmaking houses. Strongly attached to his homeland, he is also proud to be an ambassador for his region of Jura-Nord Vaud, the cradle of automata and music boxes.
Hugo is also very grateful to all the people who have supported him throughout his career, such as his apprenticeship instructors who passed on to him the fundamentals and values of Swiss mechanics, his family and his girlfriend who encourage him daily, as well as the entire workshop crew of François Junod, with whom he shares and perpetuates this unique expertise.
Fulfilled by his fascinating job, Hugo Rittener still has big dreams, namely the creation of a third automaton which has already come to life in his mind and the wish to be self-employed one day, in a future that still seems extremely remote. By then, there is no doubt that other automatons will have emerged from the Romainmôtier workshop and will perhaps have found buyers.
January 12, 2023