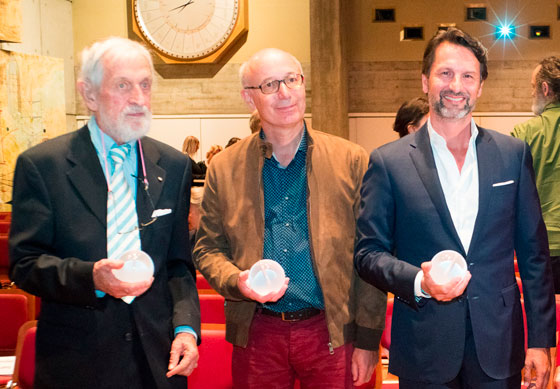 The 2018 edition of the Gaïa Prize pays tribute to three watch industry talents and once again testifies to its international significance. In addition, the MIH is innovating by instating "Horizon Gaïa", a scholarship designed to support and encourage the up-and-coming generation active in one of the three separate prize categories.
Since 1993, this distinction has been rewarding extraordinary careers in the field of watchmaking, its art and its culture. No one can spontaneously apply, but instead candidacy files are submitted by third parties. This enables jury members – Swiss and foreign figures representing cultural, journalistic, scientific and economic communities – to examine individual contributions in an unbiased manner and to designate a winner, or several when some candidacies are complementary. The jury's freedom is guaranteed by its Chairman, the curator of the Musée internationale d'horlogerie (MIH), Régis Huguenin-Dumittan.
A new feature to celebrate a silver jubilee
To celebrate the Prix Gaïa's quarter-century, the MIH is leading it into a new dimension. Alongside the three categories used to honour leading figures in the watchmaking world, Horizon Gaïa, an incentive grant made possible thanks to the generosity of the Watch Academy Foundation, will be on offer each year to encourage new talent in the fields recognised by the Prix Gaïa: Craftsmanship-Creation, History-Research, and Entrepreneurship. The aim of the grant is to fund an individual project to be completed within a year. The submission deadline for applicants will be the same as that for dossiers entered in the Prix competition (March 21st each year). The first recipient of the grant will be announced at the 2019 ceremony.
The public ceremony took place on September 20th at the Musée international d'horlogerie (MIH), in La Chaux-de-Fonds, and was attended by Annalise Eggimann, Director of Innosuisse (Swiss Innovation Agency).
Craftsmanship and creation
The Gaïa Prize jury highlights Paul Clementi's extensive skills in craftsmanship and use of his-torical knowledge to produce inventive crea-tions, with the highest standards of professional conduct.
At just 15 years old, Paul Clementi left his native Drôme to attend the Besançon watchmaking school. In this completely different environment, watchmaking was the only reminder of the back room of his father's shop, where his passion for all things mechanical was born.
In 1980, Paul Clementi trained as a watchmaker/repairer, later specialising in antique watch restoration in La Chaux-de-Fonds under the tutelage of Jean- Claude Nicolet, Pierre Willen and Jean-Michel Piguet, among others. During his training, he conducted an analysis of the Breguet three-wheel clock, constructed a detent escapement, and prepared a report on Abraham Louis Breguet.
In 1986, he began work as a prototype maker at L'Epée in Sainte-Suzanne, creating new models of table clocks and other objects, before joining Michel Parmigiani's team in Fleurier in 1989. There, he restored a Breguet Sympathique clock and created exceptional objects from scratch.
Curious and open-minded, he acquired very high-level skills in diverse specialised areas (mathematics, technology, physics and art), assisted by a network of top experts in these fields.
Reserved but keen to share his knowledge, he was al-ways looking to pass on his expertise, which led him to the Technical College in La Chaux-de-Fonds (1994- 1997), to train apprentices, then to teach at HE-ARC (2012-2016). He also contributed several articles to specialist watchmaking publications and conducted historical research. He is now the Technical Director at Bovet.
History and research
The Jury for the Gaïa Prize is paying tribute to Reinhard Meis in recognition of the key contri-bution he has made to our understanding of the technical history of watchmaking, thanks to his exhaustive independent research, and for the excellence of his publications in the field of complicated watches.
Reinhard Meis was born in 1940 into a family of watchmakers, in Koppelow in northern Germany. He completed his apprenticeship as a watchmaker in Minden and Eutin and trained at the School of Watchmaking in Altona, Hamburg. He then began his career as a watchmaker in Eutin and Husum. At the age of 27, he specialised in precision mechanics in Schwenningen, before working with Siemens and Telefunken. From 1973 to 1991, Reinhard Meis was technical assistant to Prof. Bömmel and Prof. Dransfeld in the Faculty of Physics at the University of Konstanz, specialising in the field of solid-state physics. At the same time, he wrote the reference works Die alte Uhr, Taschenuhren, IWC-Uhren, Das Tourbillon", and Arm-banduhren Chronographen – which were translated into several languages – in addition to around sixty journal articles.
In 1991, Reinhard Meis became technical adviser and movement designer at Lange Uhren. He was the man behind the first collections from Lange & Söhne under the directorship of Günter Blümlein. He helped to create exhibitions for the brands Jaeger-LeCoultre, IWC and Lange & Söhne in the Les Manufactures Horlogères (LMH) group.
At the same time, he invested his leisure time pursuing his activities as a researcher and author, notably publishing the books A. Lange & Söhne: eine Uhrmacherdynastie aus Dres-den (1997) and A. Lange & Söhne, feine Uhren aus Sachsen.
In 2004, he returned to the Richemont Movement Centre in Neuchâtel as engineering director for product design and fine watchmaking and as a consultant for the group's brands. Reinhard Meis has been enjoying his retirement since 2011, dedicating his time to his passion for writing.
Spirit of Enterprise: Maximilian Büsser
The Jury for the Gaïa Prize is paying tribute to Maximilian Büsser in recognition of his creative approach to watchmaking in the design and marketing of his products, and for the innova-tive way he manages his business.
Maximilian Büsser was born in 1967 in Milan, Italy. As a very young boy, he moved to Lausanne in Switzerland, where he spent the rest of his childhood. An engineer by training, he graduated in 1991 with a degree in microtechnology from the Swiss Federal Institute of Technology in Lausanne (EPFL).
Maximilian Büsser's passion for watchmaking was forged working as Product Manager and Sales and Marketing Manager for Europe at Jaeger-LeCoultre, which increased its turnover tenfold in the 1990s.
An entrepreneur at heart, he was just 31 when he was appointed Managing Director of Harry Winston Timepieces. During his seven years there, he transformed this company into a well-respected watchmaking brand, by developing strategy, products, marketing and international distribution, integrating design, research & development and production into its structure. The company's turnover increased 900% and Harry Winston became a key player in this highly competitive sector.
In July 2005, Maximilian Büsser created the first creative label in fine watchmaking – MB&F (Maximilian Büsser & Friends) – in collaboration with Serge Kriknoff. This enabled him to achieve his dream: to have his own brand dedicated to developing radical watchmaking concepts, within highly creative small groups, made up of people with whom he loved working. The Horological Machine No. 1, unveiled in 2007, was the first piece to reflect the MB&F state of mind: designed to look like a living creature, it features two juxtaposed dials showing the hours and minutes separately; meanwhile, its four barrels – like lungs – deploy a common energy, which powers the heart of the watch.
Key timepieces
In 2007, MB&F unveiled the HM1, their first Horological Machine. With its sculptural 3D case and its beautifully decorated movement, the HM1 set the tone for the Horological Machines which would follow: the HM2, HM3, HM4, HM5, HM6, HM7, HM8 and HMX — more than simply timekeeping machines, these were Machines which symbolised time itself.
In 2011, MB&F launched the round collection of Legacy Machines. These more conventional pieces — con-entional for MB&F — paid tribute to the watchmaking excellence of the 19th century, by reinterpreting complications by the great watchmaking innovators in the form of contemporary objets d'art. The LM1 and LM2 were followed by the LM101, the first MB&F Machine equipped with a movement entirely developed in-house.
In 2015, it was the turn of the Legacy Machine Perpetual featuring a fully integrated perpetual calendar. The LM Split Escapement was unveiled in 2017. MB&F currently alternates between Horological Machines which are resolutely nonconformist, and Legacy Machines which are inspired by history.
In addition to its Horological and Legacy Machines, MB&F has created spatial music boxes (MusicMachines 1, 2 and 3) in collaboration with Reuge, a premier producer of mechanical music boxes; and table clocks in collaboration with Epée 1839: a clock which is designed to look like a space platform (Starfleet Ma-chine), a rocket (Destination Moon), a spider (Arachnophobia), an octopus (Octopod), and three robot clocks (Melchior, Sherman and Balthazar). In 2016, MB&F and Caran d'Ache co-created a writing instrument in the shape of a rocket called the Astrograph.
MB&F has won four accolades at the Grand Prix d'Horlogerie de Genève: in 2016, the Legacy Machine Perpetual won the calendar watch award; in 2012, the Legacy Machine No. 1 received a double accolade: firstly from watchmaking fans who awarded it the People's Choice Award and, secondly, from a professional jury who awarded it the Men's Watch Prize; then, in 2010, the HM4 Thunderbolt won the Design Watch Prize. Last but not least, in 2015, the HM6 Space Pirate was awarded a "Red Dot: Best of the Best" award — the top prize available at the Red Dot Awards international competition.
The jury
The jury of the 2018 edition was composed of Régis Huguenin, Curator of the MIH and Chairman of the jury; Nathalie Marielloni, Assistant Curator of the MIH; Henry John Belmont, watchmaking consultant; Patrick Dubois, President of the Laboratoire Dubois; Estelle Fallet, Chief Curator of the Geneva Museum of Art and History; Joël Grandjean, journalist and Editor-in-Chief of Watchonista.com; Morghan Mootoosamy, Curator of the Museum of Watchmaking, Château des Monts in Le Locle; Dominique Mouret, restorer of pendulums; Anita Porchet, enameller; Anthony Randall, watchmaker; Nicolas Rossé, economic journalist with Swiss Radio and Television; Eric Tissot, Marketing & Communication Manager with Multiple SA Global Design; Nathalie Tissot, professor of intellectual property at Neuchâtel University; and Sylvain Varone, Head of watch industry sector at the Interregional Training Centre for the Neuchâtel Mountain Region.
October 11, 2018