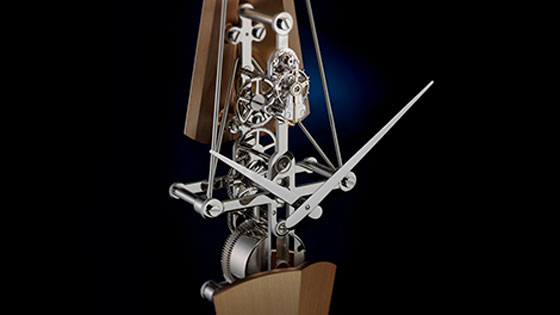 Very few sports deserve the term "graceful" as much as rowing. The long, streamlined boats that cut through the water like a scalpel and leave barely a ripple are among the most elegant forms of human movement.
This sense of grace conceals both the incredible power of the rower and the precision of the boat's boom. L'Epée 1839 pays tribute to the grace of this sport with La Regatta, a refined vertical clock combining the power (eight-day power reserve) and precision of the most elegant among watch-related sports.

The long hands of this timepiece resemble blades, echoing the slender shapes of the elongated triangular-shaped oar riggers. The visible isochronous oscillating balance governs the rhythm. The entire gear train of the movement is arranged in a single line, evoking both rowers' spines and the single line formed by the multiple scullers of a quadruple boat. At 520mm high, the clock is supported by a substantial base, which not only highlights the movement but also ensures maximum stability.

La Regatta was designed in partnership with talented Swiss-based Peruvian artist Milagros Rodríguez. It was during her master's studies at the ECAL University of Art and Design that she met Arnaud Nicolas, CEO of L'Epée, who was considering developing a new clock based on a nautical theme. This creation, the result of their collaboration, is available in a set of 99-piece limited series in each of six colours: champagne, silver, black, red, green and blue.
June 01, 2023