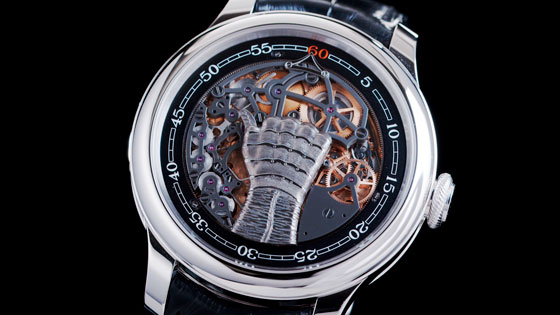 Heralding the upcoming production of a small series of timepieces inspired by the FFC Blue model, a one-of-a-kind piece created for Only Watch 2021, F.P. Journe has unveiled the genesis of this distinctive time display based on a hand whose fingers come to life as the hours go by.
In 2012, following a meeting between François-Paul Journe and the filmmaker Francis Ford Coppola, the idea of counting off the 12 hours numerals using five fingers had caught the Geneva watchmaker's attention. In 2014, he took up the challenge of inventing an animated hand capable of presenting time in this way and the FFC Blue watch was born in 2021. The watchmaker chose to draw inspiration from an ancient prosthesis design by famous French barber-surgeon Ambroise Paré (1509/1510-1590).

Thanks to rigorous miniaturisation work pushed to extremes and seven years spent ensuring overall reliability, F.P. Journe now incorporates all the components of the self-winding calibre and this astonishing anthropomorphic mobile within a 42mm platinum case measuring just 10.7mm thick. To achieve this feat, the watchmaker has removed the dial and replaced the minutes hand – which could not possibly have been used here in the traditional way – with a rotating ring mounted on a large extra-thin ballbearing mechanism.
June 01, 2023