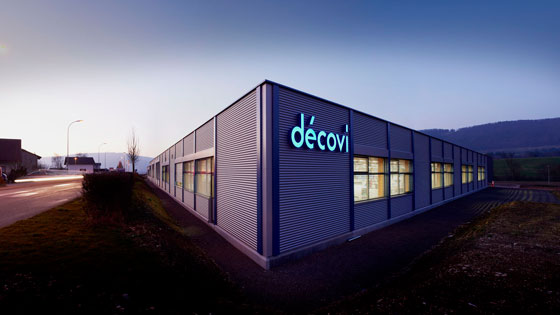 Since its creation, the Jura-based company has acquired a great deal of experience in the production of components intended for the watchmaking industry, and more specifically oscillating weights. A trusted partner for numerous watch manufacturers, the company is constantly growing and innovating.
Located on the edge of the Jura village of Vicques, this family business specialising in screw-cutting, CNC turning, milling, laser engraving and decoration offers its services to many companies working in the watchmaking, medical, mechatronics and micro motor industries, to mention only the main ones.

Although the company now occupies some 5,000sqm, it began its activity on a small scale in 1947. Fascinated by his job as a bar turner, Denis Chèvre decided to transform the back of his father's farm into a machine shop. Ten years later, he built the first production unit on the current site in Vicques. The passion for precision engineering continued to run in the family and his son, Claude Chèvre, joined the firm in 1985. Over the years, the company has built other units, expanded its activities, increased its machinery and strengthened its teams. In order to seize new development opportunities, it joined the Acrotec group in 2009.
Now managed by Claude's son, Cédric Chèvre, Décovi employs some 130 people and has a modern and diversified machine fleet enabling it to meet production demands ranging from samples to large series. Having earned ISO 9001 certification, the factory meets the corresponding quality management criteria.
A key partner for the watchmaking industry
A substantial proportion (just over 75%) of Décovi's activity is dedicated to the watch industry, for which the company manufactures high-precision parts for watch movements and exterior components. Since 2009, it has specialised in the production of oscillating weights, an activity for which a complete department has been set up.
Formerly purely utilitarian and hidden at the back of the movement, the oscillating weight is now displayed both through the back as well as on the front of watches. Subtly decorated, bearing the company's logo or refined ornaments, these rotors require great attention to design. Decovi has made this its speciality and not only machines the raw parts, but also adorns them with decorations, such as Côtes de Genève, snailing, satin-brushing, circular satin-finishing and even sunburst motifs. Surface coatings or personalised laser engravings can also be applied. Thus personalised, the parts embellish the timepieces and catch the eye with their oscillating vibrations.
The rotors produced by the company are mainly made of heavy metals, specifically tungsten. Once machined, the parts undergo a thorough cleaning and inspection process before the final stage of decoration or customisation. The surface coatings ensure a longer lifespan for the component, while the decorations add visual value. Depending on the contract with the customer, certain finishing operations are subcontracted to other specialised companies within the Acrotec group, to which it belongs. Considerable synergies exist between the group's various entities in order to optimise each company's capacities and to provide the best possible service to clients.
Décovi machines more than one million rotors per year, most of which are delivered to Swiss watchmakers. It also makes other components dedicated to movements, such as barrel drums and covers, date discs, wheel blanks, etc. For the watch industry, it produces bezels, case backs, casing rings and retaining rings. Its high level of expertise enables it to offer its customers perfect execution for each machined part.
Throughout the manufacturing process, all turned parts go through numerous inspection stages where tolerances and visual appearance are checked using dedicated equipment. The process has been fully optimised with the most advanced technologies, such as the Hexagon Global S 3D measuring device and Quick Control inspection software. Great care is taken in these operations, not only on the oscillating weights, but on every part turned in-house.
Diversification
In parallel with its activities dedicated to watchmaking, Décovi also produces parts for the MedTech (surgery, dentistry, orthopaedics), aeronautics and Precision HighTech sectors. These fields have required standards that must be met, such as the quality management standard for the medical device industry (ISO 13485). Although the company's largest capacity is currently dedicated to watchmaking, it intends to give more importance to other sectors and specifically medically-related ones thanks to its considerable technical expertise. To date, the company is able to machine a wide range of materials (stainless steel, titanium, tungsten, plastics, copper alloys and aluminium) and to offer a wide variety of turned components based on metal bars or slugs.
Innovation
Perpetually in search of innovation, Decovi has its own technical department whose task is to constantly improve work processes. In order to optimise certain repetitive operations, the company has developed independent robot systems which take on work that is not very rewarding for staff, 24 hours a day. This enables employees to do other, more complicated work that requires human intervention.
Ecology
Firmly committed to respecting the environment, Décovi has been awarded the ISO 14001 standard. The company controls and limits its consumption, emissions and waste. For example, it recycles the waste (various metals, plastics) from each screw-cutting machine on a daily basis in order to separate it from the residual oil and return it to a partner company that will recondition it for other uses. Décovi also produces part of the electricity it needs thanks to photovoltaic panels. It also devotes great importance to the commitment of its staff. No less than 80% of the employees live within a 25km radius and therefore have a very short commute to work in the morning.

Training
The training of new talent is a very important issue for Décovi and more broadly for the Acrotec group, based on the motto: "Bringing together talent to better serve customers". Several trainees – bar turners, micromechanics, logisticians and commercial employees – are therefore trained here each year, mainly on the basis of dual-track courses. Keenly aware of the lack of qualified personnel available, Cédric Chèvre devotes part of his time to this area and regularly welcomes young people to the company in order to introduce them to the technical professions and make them want to embark on such training.
In order to better serve its customers and provide its staff with a pleasant working environment, Décovi is further expanding its Vicques site. Some 2,000sqm will be added to the current plant by the spring of 2024.
May 25, 2023