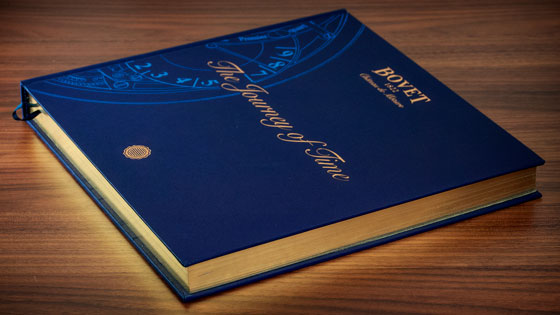 To celebrate its 200th Anniversary, Bovet 1822 introduces The Journey of Time book.
With chapters covering the history of the House, historical advertising, the brand's modern-day adventures, as well as a look toward the next 200 years, this expansive volume is the first to include historic and contemporary timepieces in the same publication.

This book presents the exhibit timepieces in chronological order, from the 1800s (timepieces specifically produced for the Asian market, the Ottoman Empire, European royalty, and more), featuring movements and decoration (engraving, appliques, enamel painting, pearl and gemstone settings, etc.) that were cutting-edge at the time. Timepieces featured in this section include the Mille Fleurs (1830), the Nightingale (1830), the Madonna and Child (1850), and the Lake Leman Landscape (1830), to mention but a few.

The book continues with timepieces from the early 1900s, including the timepiece that inspired the patented Amadeo system and the 19Thirty Collection, the Easel Chronometer (1930), before moving on to the famous Bovet chronographs from the 1930s, 1940s and 1950s.

The last chapter of the book focuses on the timepieces produced during Pascal Raffy's stewardship, from 2001 to the present. Included are the astronomical models, the Grand Prix d'Horlogerie de Genève award-winning timepieces, the Pininfarina and Automobili Pininfarina collections, as well as the many high complications and horological marvels.

Lavishly illustrated with more than 200 photographs, this volume is a must-have for any watch lover. Each timepiece is presented in detail: case material and size, movement, complication, decoration, special features and more. The royal blue satin fabric cover is gorgeously adorned with real gold-leaf embossing, the pages all have gilded edges and each page is stitched in, like it was done hundreds of years ago, using a traditional technique. In addition, each main section has a divider with a gold-leaf motif inspired by Bovet 1822's history.
March 23, 2023