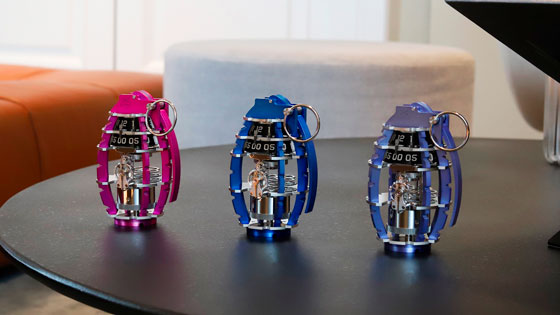 L'Epée 1839 has unveiled Grenade, a surprising timepiece inspired by an explosive device. This desk clock with an eight-day power reserve questions the hold of time on everyday actions.
Grenade's frame is composed of five distinct plates and six vertical supports, all notched and interlocking to resemble the grooved shell of the original MKII grenade. The key pin, which is safely stored in the fuse-shaped frame atop the structure when not in use, is removed and inserted onto a post in the center of the top plate to set the time. A small pointer, modelled after the 1915 German stick grenade, indicates the hours and minutes as they rotate slowly by on discs.

Grenade is issued in a limited edition comprising 99 of each model (Pink Coral Reef, 50 Shades of Grey, Deep Blue, Wild Blue Yonder, Emerald Glade, Green Forest Dawn, Red October, Purple Rain, and Black Raven).
March 23, 2023