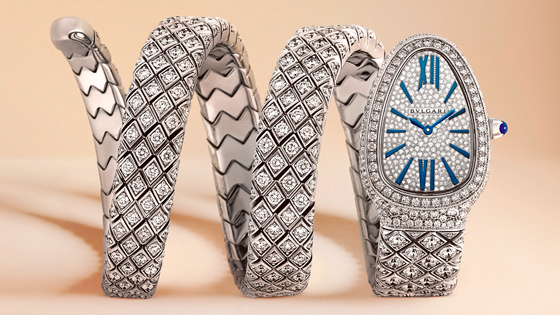 As a true icon, Bulgari's Serpenti model has been regularly shedding its skin for three quarters of a century and now celebrates its 75th anniversary.
Transcending time, space and creativity, the tale of this creation began in the late 1940s in the worlds of Watches and Jewellery, later expanding into the universe of Leather Goods. Over the decades, the icon successfully interpreted the spirit of every age, becoming a symbol of female empowerment from generation to generation.

Its ever-shifting nature and eternal spirit have been a leitmotif of Bulgari's snake icon since its earliest origins, when the first Serpenti creations made their debut as jewellery-watches to be wrapped around the wrist. At that time Serpenti was more stylised: its linked body was crafted employing the ingenious Tubogas technique, coupling masterful goldsmithing with the innate suppleness of the icon. The industrial-inspired flexible tubular band of precious metal, obtained without soldering, was an expression of Bulgari's spirit of innovation and therefore naturally suited to Serpenti's future-oriented identity.

A journey through 75 years of style, creativity and captivating metamorphosis gave rise to the Bulgari "Serpenti 75 Years of Infinite Tales" campaign showcasing the unstoppable evolution of the icon through an entrancing story reel. In a timeline spanning from the first Serpenti secret-watches and colourful creations of the 1960s to today's cutting-edge viper renditions, the campaign illustrates the idea of metamorphosis behind each Serpenti iteration.

After visiting some of Europe's most iconic art destinations, the exhibition opens at the Thyssen-Bornemisza National Museum in Madrid until 16 April.

Born from an innovative combination of art and technology, the installation is a multimedia artwork generated by artificial intelligence and resulting from algorithms trained with 200 million images of Nature. Interpreting the concept of metamorphosis as the change from one form to another, award-winning media artist and director Refik Anadol transforms Nature into data and data into abstract, poetic images.

The immersive experience combines the installation with a curated selection of Serpenti creations from the Bulgari Heritage collection as well as the Maison's historical archives, while a fragrance developed by artificial intelligence, named Rainforest Serpenti, permeates the immersive room of the installation for a multi-sensory journey.

In Madrid, a one-of-a-kind Serpenti High Jewellery necklace with matching earrings, exclusively created for the anniversary, will be unveiled. Named Serpenti Blue Heaven for the celestial colours of its tanzanite and aquamarine layout, it evokes Italian and Spanish skies. The creation represents a fascinating new chapter in the history of this collection, metaphorically displaying an embrace between the two countries. The legend of Serpenti is rendered through Bulgari's visionary craftsmanship and gemstone artistry in a new tale of wonder.
March 16, 2023