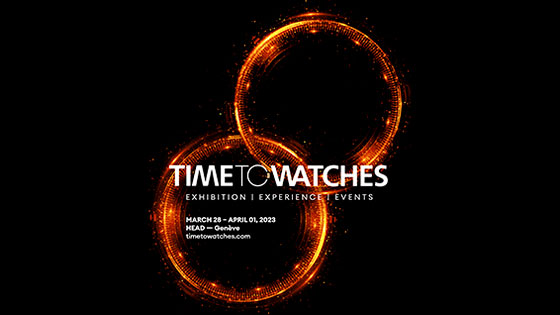 Following the success of its 2022 edition, the Time to Watches event will return to the HEAD – Genève, during Watch Week from 28th March to 1st April 2023. This year, Time to Watches will be open to the public throughout the five days moving away from being a professional-driven event.
The first edition of Time to Watches was held last year culminating in a smashing 4'500 visitors over the course of 4 days. In 2022, the event brought together exhibiting watch brands after the worldwide hiatus, organized a cultural Talks programme tackling the main challenges of the industry, and gave the stage to talented young watchmakers.

Organised by Christian Wipfli - longtime Geneva-based trade show planner, watch aficionado - and his expert staff, Time to Watches returns as a rich, diversified, and accessible event offering a creative, and cool space for independent brands. Focused on encounters and exchanges, Time to Watches 2023 aims to bring watch brands closer to the general public. Historical watches, newcomer watch brands, fashion watches, CPO (Certified Pre-Owned), connected watches, each visitor will find its favourite brand and watch. Because of its richness, diversity, creativity and innovation, watchmaking can convey unique emotions, generating real favourites and captivating everyone.

Time to Watches was designed to allow brands and independent watchmakers to come and meet their customers of today, but especially the buyers of tomorrow, in an absolutely relaxed and open setting. Watchmaking is an Art that Time to Watches has decided to make accessible to everyone.
March 09, 2023