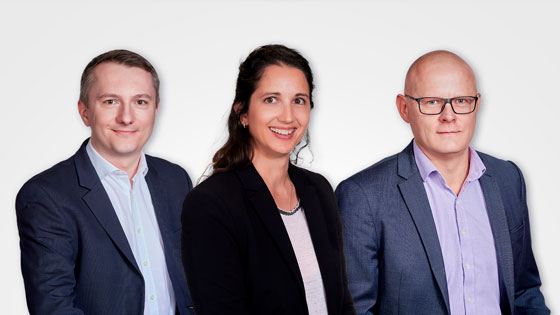 Sébastien Virtel, Marjolaine Cordier and Cyrille Mathieu
In order to support its accelerating growth after the acquisition of Axial Medical, Acrotec's structure has been reinforced with the appointment of three group executives as directors of the Watch and Jewellery, Medtech and High-Tech Precision divisions.
"Acrotec has now reached a size that compels us to strengthen our organisation", explains François Billig, CEO of the Group. "By appointing three directors to manage each of our three divisions, we will be able to deal with specific concerns in each division with more agility, while continuing to develop synergies within and between each one. There won't be any changes for existing customers, however, who will maintain their close ties with each of our businesses."

Cyrille Mathieu, 49, current CEO of Kif Parechoc, WatchDEC and mu-DEC, has been appointed to head the Watch and Jewellery division. Sébastien Virtel, 39, is in charge of the Medtech division, which he helped create and develop and has been coordinating since 2018, in addition to his duties as Senior Vice President of Sales & Digital. Marjolaine Cordier, 39, CEO of Vardeco for the last six years, has been appointed as manager of the High-Tech Precision division.

These three division directors will also have the collective responsibility of consolidating the agility of the federation of companies, whose combined skills represent a unique force for action and collective innovation in the markets. This reorganisation and appointments is effective since 1 January 2023.
February 02, 2023