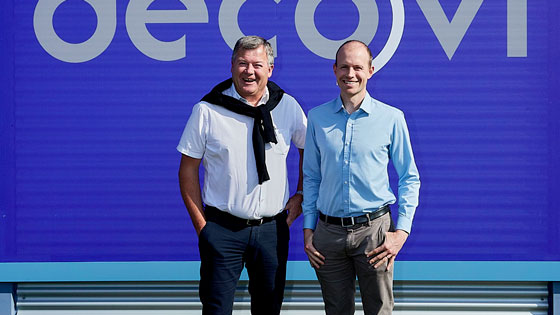 After having celebrated its 75th anniversary in March 2022, Décovi turned an important page in its history last December.
Claude Chèvre, who had served as CEO for more than 30 years, handed over the reins to his son Cédric. A natural transition that perpetuates the family tradition within one of the most important Swiss bar-turning companies.

This long family history began in Vicques in 1947 thanks to the entrepreneurial spirit of Denis Chèvre who launched his first workshop with three cam-type turning machines. A few decades later, in 1992, he handed over the general management of the company to his son Claude, who has been active in the company since 1985.

Thirty years later, Claude Chèvre can look back on a long journey and serenely pass the torch to his son. "It's the right time", he says. "Decovi is in excellent health and Cédric has proved himself remarkably well. We have just passed the 100-employee mark and, for the first time in our history, Decovi's monthly turnover is over three million francs."

This fine growth is also to the credit of the future young retiree who has prepared well for the future. As Claude Chèvre explains: "Décovi's strong growth will continue in our watchmaking and microtechnology fields of expertise. This is confirmed by our order books and the synergies within the Acrotec group – to which the firm has belonged since 2009 – now enable us to offer the assembly of oscillating weights with bearings developed by KIF Parechoc."

Claude Chèvre was also keen to launch the project to expand the factory to a new 2,000 sqm area, also in Vicques, which will begin this year and be completed next December. This is an important step in the development of Décovi's professional skills – mechanical engineers, bar turners, programmers, precision mechanics, quality controllers, etc. – who have successfully obtained ISO 9001, 13,485 (medical) and 14,001 (environmental) certification. It will also be a new showcase for the exceptional fleet of more than a hundred CNC machines – for bar turning, turning, 3- to 5-axis milling, decoration, laser engraving and a 3D printer – that will doubtless continue to expand.

After obtaining a degree in mechanical engineering, Cédric Chèvre began his professional career in 2010 in the field of machine tool design at Tornos, then Willemin-Macodel. During this period, his days ended with evening classes to earn an MBA in management. In 2015, his father called him into the family business Décovi to take responsibility for the oscillating weights, an endeavour that yielded resolutely positive results. In 2017, Cédric quickly became production manager, then deputy general manager in January 2021 and co-CEO in January 2022. Cédric is very attached to the synergies that exist and are developing within the Acrotec group, driven by a desire to preserve the values of the company that have been forging its success and its identity for three quarters of a century.
January 19, 2023