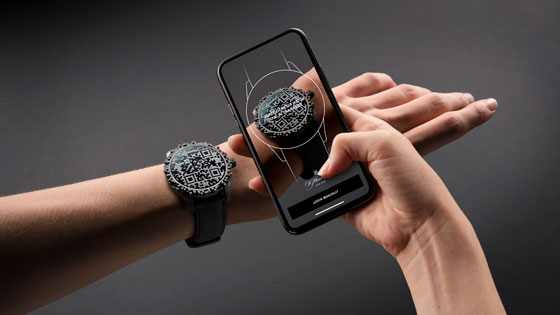 Entrepreneurial in its DNA, the watchmaking brand has developed a complete ecosystem that offers blockchain product authentication for enhanced multi-level security and transparency, exclusive privileges enabled by digital asset ownership, along with a metaverse space intended to both showcase its products and benefit its customers.
This large-scale project is multi-layered and mixes physical, digital and virtual dimensions. It is based on the development of a complete ecosystem structured through a dedicated app allowing watch authentication through blockchain technology, provided by Aura Blockchain Consortium. Through Aura SaaS, customers can access complete traceability and transparency through the product's lifecycle from certification to warranty, along with insurance and further customer services. This authentication will eventually be introduced for all Moser watches via the warranty card that is included with each model. Non-speculative digital assets have also been created in the form of NFTs including digital artworks, in particular short "time capsule" videos promoting the product and the watchmakers behind it, ultimately sealing forever on the blockchain the moment production is completed for each watch.

Alongside this, H. Moser & Cie. has developed an immersive metaverse experience inviting customers to step into a new universe supported by a blend of tradition and latest technologies. In this metaverse space, visitors can discover the history of the brand and the Manufacture, as well as meet the Moser team in a new dimension. Designed to enable its customers and its community to enjoy a virtual experience, this metaverse space draws its inspiration from current leading virtual worlds. Designed as a modern, minimalist Swiss chalet, it comprises both classic references to Switzerland as well as specific references to the brand, such as the Rhine Falls (Rheinfall), where the Manufacture has its headquarters. Designed to develop and evolve, this universe opens the doors to the imaginative world of Moser.

This pioneering project centres around a concept watch available as a 50-piece limited edition and incorporating aesthetic codes from the virtual to the tangible: its 3D-printed titanium crown and bezel appear pixelated and are perfectly paired with the watch's microblasted steel case. This is the first piece in an exclusive triptych which will give each owner access to the next two pieces. Christened the Endeavour Centre Seconds Genesis, this timepiece is a hybrid product, combining both physical and virtual dimensions. Each Genesis timepiece bears a unique QR code engraved on its sapphire crystal serving to authenticate watch ownership, offering its owner privileged access to the entire dedicated digital and virtual ecosystem, in particular giving them priority to purchase certain future limited editions, membership of the Moser community, exclusive invitations to brand launch events, and more. This is yet another way that the company is offering added value to its customers within the Moser universe, while strengthening its interactions and engagement with them. Both the Genesis timepiece and the associated digital assets will benefit from unrivalled insurance service. Moreover, H. Moser & Cie. recently started accepting direct payment in crypto-currency.

To accompany it in this leap towards decentralised experiences, H. Moser & Cie surrounded itself with established recognised partners. Deloitte Consulting Switzerland has mobilised key technological and industry leaders to empower the watch brand to reimagine the future of luxury watches. These partners are Aura Blockchain Consortium, a leader in technological solutions for the luxury goods sector; Zurich Switzerland to insure the physical product and digital assets for this brand-new hybrid product; Crossmint for custody of tokens in a wallet accessible for the first time via a dedicated application; and Salesforce, making H. Moser & Cie. one of the first global customers across all industries to benefit from its Web 3.0 management suite. The expertise of these partners lends credibility to H. Moser & Cie.'s approach and serves as a guarantee. Each partner shared its know-how to ensure the success of this project, in a brand-new combination of different industries and experiences.

Designed to be customer-focused and people-oriented, H. Moser & Cie.'s cutting-edge approach is unique. It will enable H. Moser & Cie. to apply the most popular features among its customers to future models to constantly improve customers' experience, while also enabling them to be part of a passionate community of VIP watch owners. To mark the launch of this project, the brand organised a series of press conferences in its dedicated space in the metaverse – an unprecedented experience.
January 19, 2023