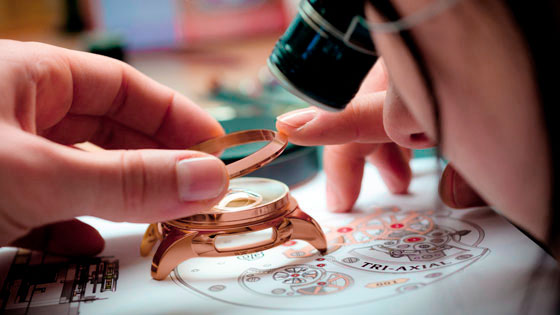 On 30 September 2022, there were a total of 60,823 people employed in the watch industry sector, 3,332 more than the previous year (+5.8%).
Such is the picture emerging from the annual census of the sector carried out by the Employers' Convention of the Watch Industry (CP). This marked increase brings the industry's workforce back to a level not seen since the quartz crisis. The latter had reduced numbers from nearly 90,000 to 30,000 between 1970 and 1988. The workforce has doubled since then, buoyed by Swiss watch exports which in 2022 reached one of the highest values in their history.

In order to meet this strong demand, companies in the sector have concentrated most of their commitments on production personnel. Staff numbers in this area rose by 9.3% (+3,780 employees), confirming its role as a true indicator of the sector's health. As in the previous period, the number of administrative personnel fell by 463 (-3.1%), while the number of management staff increased slightly by 31 (+1.9%).

The upswing in the number of people with higher education (+7.9%) or a vocational diploma (+4.7%) continues, thus maintaining the proportion of qualified staff at above 70% of the total workforce. The number of apprentices fell by 115 (-8.1%). This decline can be explained by the public health crisis of the last two years, which has had a negative impact on the opening and allocation of apprenticeship places. This trend is likely to be reversed in the future.

The top three cantons in terms of the number of watchmakers remain unchanged. Neuchâtel (16,278), Berne (12,865) and Geneva (10,987) still share the podium. The "watchmaking arc", made up of these three cantons as well as Jura, Vaud and Solothurn, centralises the majority of workers in the sector, since more than 9 out of 10 employees of the total workforce belong to it. Neuchâtel and Jura, which are key historical subcontracting hubs, recorded the highest increases, with 1,215 (+8.1%) and 629 (+9.6%) additional workers respectively.

Companies subject to the Collective Labour Agreement (CLA) signed with the sector's unions are in a substantial majority: with an increase of 2,597 people working under the agreement, the 507 companies represent three quarters of them, employing a total of 51,604 people. The proportion of employees working in companies subject to the sector's collective labour agreement is 84.8% for 2022. The watch industry remains one of the most contractually bound economic sectors in Switzerland.
January 12, 2023