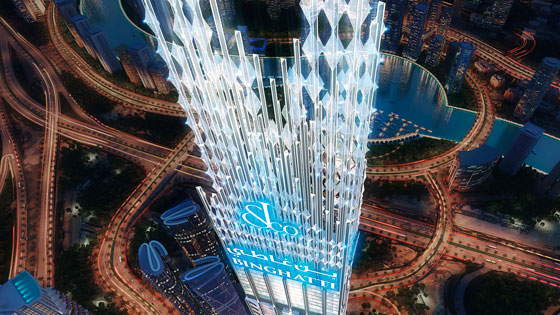 On 16 November, within the largest multi-purpose indoor stadium in the Middle East, the Coca-Cola Arena in Dubai, Jacob & Co and Burj Binghatti Residences have launched a unique project, an ultra-luxurious skyscraper intended to be the highest ever built to date.
The two partners coins a new term in upper-crust real estate: hypertower. Opening a new era in uber-luxury living, this unparalleled skyscraper aims to set a record as one of the tallest residential constructions in the world. In a great leap upwards, it stands opulently in the heart of Dubai's most eminent financial district, Business Bay. The proposed design comprises over 100 stories that are made of lavish two-bedroom and three-bedroom residences. This jewel of a building features unique designs co-signed by and co-designed in the recognisable style of watchmaking and jewelry brand Jacob & Co and leading Dubai-based developer Binghatti. This new residence includes multiple levels dedicated to such amenities as an infinity pool overlooking the entire Dubai skyline, a luxury spa and a gymnasium. This hypertower also houses a dedicated concierge team, offering à la carte services such as daycare, bodyguard, chauffeur and private chef.

Drawing inspiration from horological and high jewelry aesthetics, Burj Binghatti Jacob & Co Residences' design is reminiscent of the baguette-cut gems emblematic of Jacob & Co.
December 01, 2022