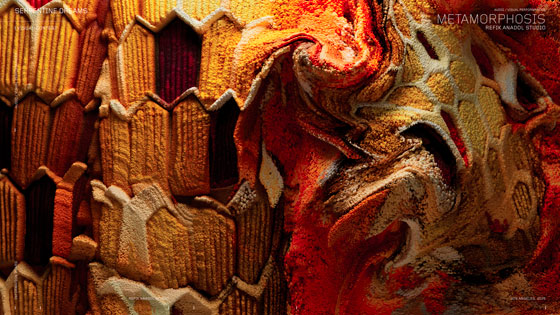 Bulgari embarks on a new chapter with award-winning media artist and director Refik Anadol. After last year's success with their exhibition and digital experience in Piazza del Duomo in Milan, it is London's chance to celebrate the second chapter of Serpenti Metamorphosis.
Until 23 December 2022, Bulgari presents an immersive experience with Refik Anadol's artwork representing its most famous icon, Serpenti, within the world­ renowned Saatchi Gallery in Chelsea, London, for the first time ever. lt kicks off a momentous milestone, the 75th anniversary of Serpenti, to be celebrated in 2023.

Bulgari and Refik Anadol lead visitors through an immersive journey. The unique Al developed by the artist and director takes explorers through the infinite intricacies of an ever-changing snake, showcasing its continuous rebirth and evolution all while being tantalised by complimentary sounds and smells synonymous with Bulgari's finest fragrances.

Machine learning algorithms trained on more than 200 million images of nature result in a mesmerising visualisation of an alternative reality of nature that mimics its textures, recalling the snake's evolution, a new take on the meaning of Metamorphosis. As evocative premise to Refik Anadol's experience, the setup is enriched with Bulgari Serpenti archival images and sketches in dialogue with the creations on display that fittingly illustrate the unceasing evolution of the icon and its deep connection with the feminine universe.

The experience is brought to the tangible world by an exclusive selection of Serpenti pieces complimenting the exhibition, from heritage jewellery and horology pieces dating back from the 1940s, right the way through up to the present day with the latest high jewellery creations of the Roman jeweller.

The installation tells the story of this multi-faceted emblem that has always kept pace with fashion trends and the evolution of society driven by the emancipation of women.
November 24, 2022