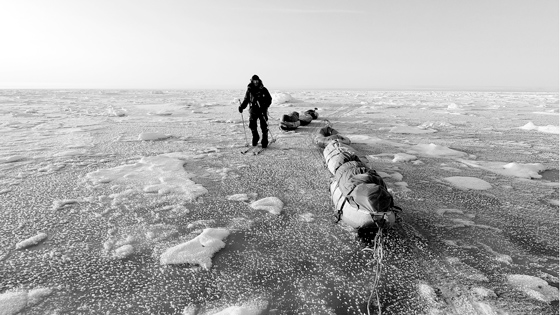 Ulysse Nardin has collaborated with Norrøna, the minimalist outdoor sportswear brand known for its premium and sustainable materials.
As a result of this partnership, the new Diver Norrøna Arctic Night watch is a 29-piece limited edition featuring a caseback and sides made of Carbonium (40%) and Nylo (60%) – a material derived from recycled fishing nets and sold exclusively with a Norrøna arktis Gore-Tex Pro Ulysse Nardin Edition jacket. It is a testament to both Maisons' commitment to sustainability through the use of alternative materials.

To accompany the launch, Ulysse Nardin is proud to announce its partnership with Norwegian polar explorer Børge Ousland and an active member of the Norrøna family. The timepiece is a 29-piece limited edition and is sold with a Norrøna arktis Gore-Tex Pro Jacket Ulysse Nardin Edition.

This new joint project symbolises both companies' commitment to safeguarding a future for the planet, starting with the poles. Polar sea ice helps regulate Earth's climate and we know that the warming of polar oceans has powerful implications for organisms living there – and for us. This collaboration is a call to action.

Norwegian explorer and writer Børge Ousland is a fearless adventurer. The first person to complete solo crossings of both the Arctic and the Antarctic, Børge is curious, confident and courageous. Hauling supply sleds weighing nearly 150 kilogrammes, he endured limb-freezing temperatures and encounters with polar bears in pursuit of his extreme goals. A former deep-sea diver and Norwegian Navy seal, Børge undertook his first expedition across Greenland in 1986. On subsequent expeditions, he has partnered with French explorer Vincent Colliard and, most recently, Mike Horn.
November 17, 2022