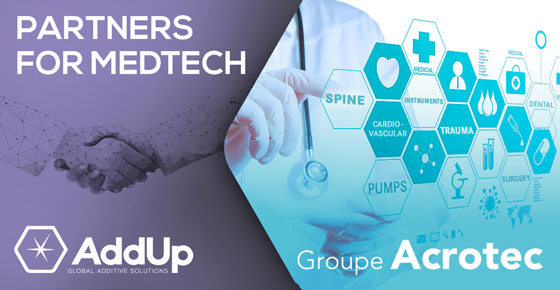 Acrotec, one of the largest European players in medical subcontracting, and AddUp, a manufacturer of machines and components in the metal 3D printing sector, have combined their expertise through a partnership aimed at offering an industrial solution for healthcare professionals.
The medical field is increasingly using additive manufacturing to improve the design of devices to deliver clinical benefits, to make their development and production faster and more flexible, and to be able to customise them while respecting the regulatory constraints of this demanding sector.

The Acrotec Group, through its Medtech division, is mainly active in the spine, trauma and dental sectors. Over the years, the group has acquired and developed the skills necessary to manufacture precision components and sub-assemblies for medical devices, particularly in the machining and finishing of metal components. This experience makes Acrotec Medtech a trusted industrial partner for the production of spinal, extremity and dental implants as well as most instruments used in surgical procedures.
July 14, 2022