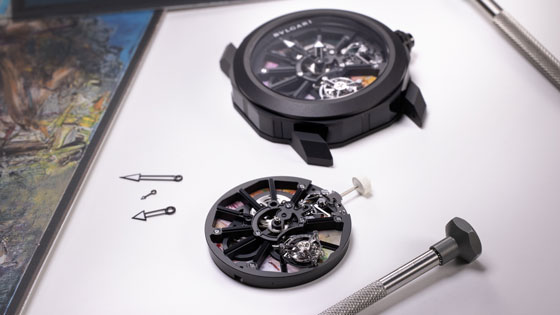 In 2021, Bvlgari launched a new line within the Octo family: Octo Roma Naturalia, the watch born from ornamental stone, such as onyx and malachite, integrated into the BVL 206 skeleton tourbillon calibre and bespoke-made to order.
Today, the brand brings together time, culture and contemporary art by taking the Art of personalisation, and the personalisation of Art, to a higher level.

The Italian watchmaker presents a limited edition of eight one-off timepieces created in collaboration with Chinese-French artist Wang Yan Cheng. Each of these exceptionally rare watches is a canvas for the artist, based on the design of the 44-mm Octo Roma in black titanium with a skeleton flying tourbillon movement and sandblasted surfaces.

Considered to be one of the most important painters of the Chinese contemporary art scene, Wang Yan Cheng is a singular artist linking East to West. Born in 1960, he gained international recognition in the 1990s, at the leading edge of the lyrical abstraction movement. A master of colour and vibrant contrasts, he paints large formats in oil in several successive layers, dripping fluid paint onto textured backgrounds, creating a seemingly random relationship with the work whilst maintaining control. Artistic mastery at its most exacting. "The unexpected, mastered" approach is also taught and passed on in renowned art institutes both in China and France.

By opening a new horizon where mechanical technique and artistic sensitivity converge, by inspiring a distinctive aesthetic that allows the new to emerge, unencumbered by legacy, Octo Roma Naturalia again proves the perfect platform for Bvlgari's most remarkable projects – in particular those of an artistic nature, such as this collaboration with the painter Wang Yan Cheng timepiece. Its expressiveness comes with a unique ability to welcome the new into its own nature. And there is the knowledge that no two watches are alike. This is rooted in the Maison's culture of high jewellery: Each Octo Roma Naturalia x Wang Yan Cheng is visually unique and comes with more than century-old expertise of stones and colours that fuses design and technology, resonating with the primeval, organic forces of Nature.

The skeleton movement creates a vast space that naturally lends itself to the inclusion of materials, patterns and creations of many kinds. Here, a stratum within Calibre BVL 206 has been freed to provide Wang Yan Cheng with a canvas for his vision. The piece's sophisticated nature, its unique design and unexpected architectural flexibility combine with the possibilities for expression afforded by the skeleton framework. Together, all these facets build a timepiece on an entirely new plane of artistry in terms of engineering and design.
June 30, 2022