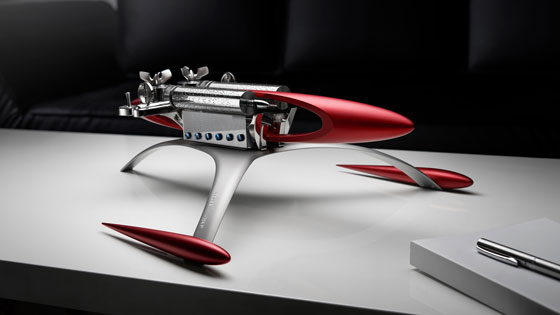 Back in 2013, MusicMachine 1 opened the floodgates for MB&F to collaborate with external creators on projects outside the scope of the wristwatch; it initiated a new category – "Co-creations" – that invited MB&F to a world beyond that of miniaturised horology.
And it did not tell the time: rather, it was a music box created with Reuge that uprooted everything we thought we knew about music boxes, from the design all the way to the music. MusicMachine 1 featured all the traditional, time-honoured elements of a superlative high-end music box, but configured in MB&F's individualistic manner.

High-end mechanical music boxes share many similarities with their horological counterparts, both technically and aesthetically, including similar fine finishing techniques. In this new creation, energy is derived from coiled springs and transferred by gear trains, while the unwinding speed is carefully regulated thanks to fan regulators similar to those found in traditional minute repeater watches.

Reuge created MusicMachine 1 Reloaded based on a futuristic spaceship design proposed by MB&F whose founder, Maximilian Büsser, is a keen fan of all the great sci-fi films and TV series. In collaboration with ECAL (Ecole cantonale d'art de Lausanne) design graduate Max Maertens, MB&F evolved Xin Wang's original spaceship design while cleverly incorporating all the essential music box features such as musically tuned combs, pinned cylinders, winding mechanisms, mainspring barrels, regulators, and an acoustically optimised case.

This new creation does not just look like something from a science fiction film; three of the melodies have been beamed directly from sci-fi classics.

MusicMachine 1 Reloaded's left cylinder plays the theme from Star Trek by Jerry Goldsmith as well as the theme from Star Wars and the Imperial March from The Empire Strikes Back, both by cinematic music maestro John Williams. While the first two are stirring anthems evoking heroism and adventure, the latter will have you battening down the hatches and raising the shields as it signals the imminent arrival of the villainous Darth Vader. The rock 'n' roll attitude is neatly symbolised by the three melodies of the right cylinder: John Lennon's classic anti-war anthem Imagine, Deep Purple's riff-tastic Smoke on the Water and Pink Floyd's memorable social commentary Another Brick in the Wall.

On either side of the propeller-like winding levers are distinctive vertical circular panels. While these look as though they may be radar dishes to navigate an asteroid field or force field generating devices to repel enemy proton torpedoes, they are actually the cylinder speed regulators. When fully wound, the main springs tend to turn the cylinders faster than when nearly unwound. To compensate, these circular fan air regulators provide exponentially more resistance when rotating faster than slower, allowing for a constant revolution.

Crafted in blue, red, or black anodised aluminium, MusicMachine 1 Reloaded's sleek fuselage amplifies sound transmitted from the brass vibration plate centrally housed within the case. This plate also conducts the vibrations along the curved, lateral struts and outrigger-style landing pods in bead-blasted, anodised aluminium, which in turn carry the vibrations down to the landing platform.
June 30, 2022