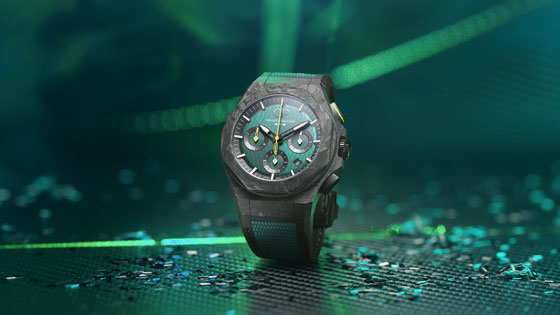 Dans le cadre de leur partenariat initié en 2021, Girard-Perregaux et le constructeur britannique Aston Martin ont déjà dévoilé deux pièces horlogères au style déterminé.
Last May, in working for the first time with the Aston Martin Aramco Cognizant Formula One (AM F1) entity, the firm from La Chaux-de-Fonds revealed the third creation resulting from this collaboration, the Laureato Absolute Chronograph Edition AM F1. This watch unites two worlds: micromechanics and the extreme performance of Formula 1.

In the competitive world of F1, a mere fraction of a second can mean the difference between success or failure. Besides aerodynamics and engine power, weight is of huge importance, hence teams continuously research new innovative materials that promise to provide precious weight savings. In this instance, the AM F1 Team has brought its incredible understanding of lightweight materials to the world of Haute Horlogerie.

The new Laureato Absolute Chronograph AM F1 Edition features a cutting-edge 44mm case. Its composition blends titanium powder and carbon elements taken from two F1 race cars used during the 2021 season. Using a high-tech manufacturing process, the individual components are combined and mixed with a tinted resin. The resultant material features superior ductility to that of steel. Each watch will have its own visual identity and will look uniquely different from any other timepiece on the market.

The GP Rubber Alloy strap, presented in Aston Martin Racing Green, is made of FKM rubber and carbon elements also taken from the two Formula One cars. The process for creating this pioneering composition is highly technical and requires specialised equipment. The resultant strap boasts superior suppleness and resistance when contrasted with conventional rubber. In this instance, its appearance is enriched with a fabric-effect façade. The buckle is equipped with a micro adjustment system.
June 23, 2022