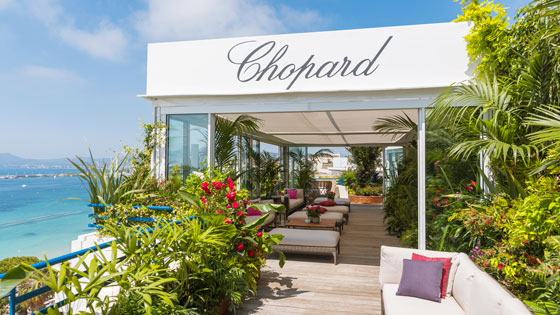 Over 25 years of a unique partnership, Chopard and the Cannes Film Festival have jointly written the history of cinema.
For the 75th edition of this world-famous film event which took place in May, the jeweller celebrated its commitment to the seventh art through the theme "Chopard Loves Cinema", which run through all its activities.

The Maison took up residence at the Hôtel Martinez, of which the uppermost floor will host the Chopard Rooftop, a luxuriant setting in which to welcome the prestigious guests of long-time cinema-lover Caroline Scheufele, Co-President and Artistic Director of the brand.

Nicknamed the "Red Carpet Jeweller", Chopard has unveiled its aptly named Red Carpet Collection in Cannes: a selection of 75 Haute Joaillerie creations inspired by Caroline Scheufele's personal film repertoire. Entirely crafted by the "Mains d'Art" of the workshops, these masterpieces have been worn by the actresses and actors who came to support their films competing on La Croisette.

Honouring the 75th anniversary of the world's greatest film festival – with which Chopard has been nurturing a passionate relationship for 25 years – in due style called for an exceptional Palme. Caroline Scheufele decided to revisit the Palme d'Or by studding two of its tiny leaves with diamonds from suppliers certified by the Responsible Jewellery Council. One will be graced with 75 diamonds symbolising the Festival's jubilee; while the other will feature 25 diamonds to immortalise the quarter-century of the partnership with Chopard: a double celebration in perfect unison.

The Fairmined-certified 18-carat yellow gold Palme was not placed on the traditional rock crystal cushion, but instead on a base made of rose quartz – a stone symbolising love.
June 16, 2022