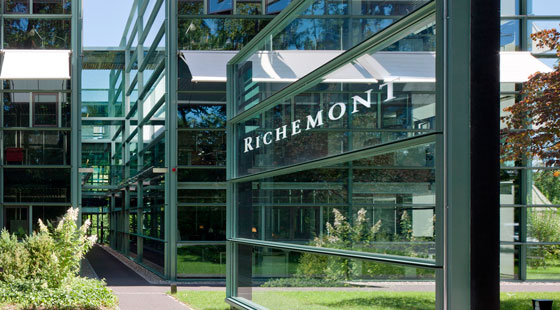 The financial year ended 31 March 2022 saw Richemont report another strong set of results. Increased inflationary pressures and repeated temporary store closures due to health protection measures were offset by relatively improved economies up until February 2022.
Sales during the year under review reached an all-time high of € 19.2 billion, a 46% increase over last year (+35% on a two-year comparative period) with all Maisons, channels and regions achieving double-digit growth, led by retail and the Americas (+79%). Sales in Asia Pacific rose by 32%, with mainland China sales growing by 20% compared to the prior year. The strong European client base more than offset subdued inbound tourism, leading to a 51% sales increase, while in the Middle East and Africa sales grew at a similar pace, surpassing Japan as the Group's fourth largest market, where sales nonetheless rose by 28%.

The Jewellery Maisons – Buccellati, Cartier and Van Cleef & Arpels – delivered a step-change in performance with combined sales exceeding € 11 billion and the operating margin reaching 34.3% versus 31.0% in the prior year.

Another noteworthy achievement relates to the Specialist Watchmakers' strong sales rebound (+53%) to €3.4 billion and operating margin recovery to 17.3%, with nearly all Maisons exceeding pre-pandemic sales levels. The specialist watchmakers reaped the benefits of direct-to-client sales exceeding 50%, achieved through continuous improvements in distribution, communication, notably on social media, and supply chain management. The increased appeal of high-quality watches to Millennials and Gen-Z is very positive for the future.

At the Group's Online Distributors, sales rose by 27%. The shift towards a hybrid business model (mix of inventory ownership and econcessions/marketplace) at Net-A-Porter and Yoox, as well as localisation efforts, progressed further. Watchfinder consolidated its position as a leader in pre-owned watches in its home market and outside the UK.

The Group's Other business area, mostly composed of the Fashion & Accessories Maisons, posted strong growth, with sales 53% higher than in the prior year.

At the Group level, operating profit more than doubled to € 3.4 billion and the operating margin strengthened to 17.7%.

Given the strong performance of the year and robust net cash position of the Group, the Board proposes to pay an ordinary dividend of CHF 2.25 per "AV share (and CHF 0.225 per "BV" share), an increase of 13% over the prior year, as well as an additional special dividend of CHF 1.00 per "A" share/10 "B" shares, subject to shareholders' approval at the Annual General Meeting on 7 September 2022.
June 16, 2022