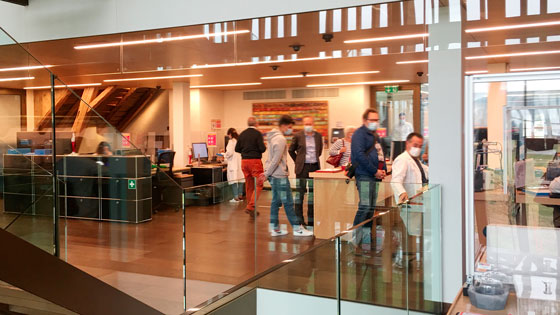 Some 30 open workshops and factories, 300 visits, introductions to watchmaking, round tables, screenings, a gala concert... A rich programme awaited participants in the tenth edition of the BPH which brought together 7,000 watchmaking enthusiasts.
Organised by the municipalities of La Chaux-de-Fonds and Le Locle, the tenth edition of the Watchmaking Heritage Biennial (BPH) proudly celebrated the December 2020 inclusion of "craftsmanship of mechanical watchmaking and art mechanics" in UNESCO's intangible heritage list. The theme of this major event, which took place from November 2nd to 7th this year, was training and transmission. With an expansion towards Saint-Imier, the circle of flagship companies opening their doors was further extended with the Compagnie des Montres Longines Francillon, the Official Swiss Chronometer Testing Institute and the Haute école Arc Ingénierie – MicroLean Lab. In all, some 30 workshops and factories offered some 300 visits. No less than 7,000 curious participants, including both watch enthusiasts and novices, took advantage of this opportunity.

The 25th International Watch Marketing Day, held on November 4th in the magnificent setting of the L'Heure Bleue theatre, brought together a number of speakers who debated the theme "Retroprospective". Four round tables dealing with issues such as the new customer experience, Swiss made, the future of points of sale and new ways of telling the time kept the public spellbound for an entire afternoon.

During the opening evening of the BPH, the municipal authorities had the pleasure of welcoming Federal Councillor Alain Berset, who in a speech tinged with humour welcomed the inclusion of watchmaking expertise on UNESCO's intangible heritage list, as well as the fascinating treasures of watchmaking urbanism that have been part of it since 2009. He also attended a round table on "Watchmaking know-how, treasures to be cultivated". Within the same theatrical setting, a New Orleans jazz gala concert was given by Hugh Coltman & band.

As soon as reservations for this major autumn event opened, visits to the Manufactures and workshops were taken by storm. Manufacturers such as Breitling, ochs und junior, Girard-Perregaux, Greubel Forsey, TAG Heuer, Winiger Horloger, Zenith, Cartier, Jaquet-Droz, Audemars Piguet Renaud & Papi, as well as subcontractors such as Arrigoni Laufer, C2p Polissage, Cortinas, Duplain Horlogerie, Quadroni, Bergeon, Brasport Group, Horotec, to name but a few, offered the public the chance to share their expertise. In parallel, historical sites, exhibitions, schools, analysis laboratories, cinemas and museums also offered activities. The Jura Arc Learning Centre even took the opportunity to inaugurate its new premises in La Chaux-de-Fonds.

These open day enabled us to discover the Cartier Maison des métiers d'art (House of Arts and Crafts). Adjacent to the Crêt-du-Locle factory, this artisanal entity is housed in an entirely renovated 18th century Bernese-style farmhouse. While the spirit of yesteryear lives on in the three floors of the building, the premises are also distinguished by modernity and technologies offering optimal working conditions for the craftspeople who ply their trade there.

While traditional techniques such as enamelling and setting occupy a large place, they also leave room for forgotten forms of expertise. Often passed down across generations, these skills from the past have sunk into oblivion over time. Cartier has taken on the task of reviving these artisanal treasures. The company has thus brought back to life Etruscan granulation, enamel granulation, filigree – a Sumerian technique dating back 3,000 years – as well as wood, straw and even floral marquetry.

The ochs und junior company has recently moved into the Villa Grieshaber, a mansion built by the architect Henri Grieshaber in 1911. This visit not only provided an opportunity to discover the timepieces created by Ludwig Oechslin, such as the very recent calendario cent'anni model, but also the rich architecture of this building, which harmoniously combines Art Nouveau, Heimatstil and neo-baroque.

The next edition of the Watch Heritage Biennial will take place in two years' time, from November 2nd to 5th 2023.
November 25, 2021