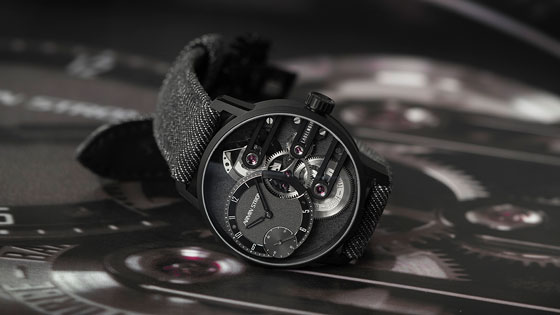 The new limited series of the Gravity Equal Force by Label Noir is an invitation to visit the dark side of the force. This initiative is the result of a collaboration between the Geneva-based customisation specialist and the Biel/Bienne-based watch brand.
Crafting this timepiece required the utmost dexterity. Encircled by a black hour dial and a precise minute track, the off-centre grey disc displays the hours and minutes hands. This space also incorporates a small seconds hand. The distinctive scenography provides all the surface area necessary to display the key elements of the movement without laying them bare. The gear-trains, barrel and micro-rotor are displayed and supported by stylised ebony-coloured parallel bridges. This unparalleled configuration endows the timepiece with a resolutely horological and atypical personality.

The customisation workshop is a master of sophisticated finishes. The Gravity Equal Force's dial is the ideal surface to apply an exclusive process developed in-house, called Magma Moon Coating (MMC). Performed using laser technology to create a depth effect, this operation flies us to the dark side of the Earth's satellite and its ruggedness, accentuating the mysterious aspect of the timepiece.

The 41mm-diameter steel case housing an ingenious mechanical structure also benefits from a specific treatment, a Label Noir signature. The Amorphous Diamond Like Carbon (ADLC) lends it a discreetly and elegant matt colour while reinforcing its protective hardness and ductility. Thanks to the "stop-work declutch" mechanism of its ASB19 movement, coupled with a self-winding movement, the Gravity Equal Force is the first timepiece in the history of watchmaking to feature constant force transmission using a Maltese cross with a micro rotor. Such injection of power into the balance guarantees flawless uniform precision. This calibre, with a frequency of 25,200 vibrations per hour, also delivers a generous power reserve of 72 hours.

The Geneva workshop's expertise in the field of coating transcends the art of watchmaking. Armin Strom Gravity Equal Force by Label Noir serves as a reminder that while bright colours are trendy, blacks have a natural elegance that outlast passing fads.
November 04, 2021