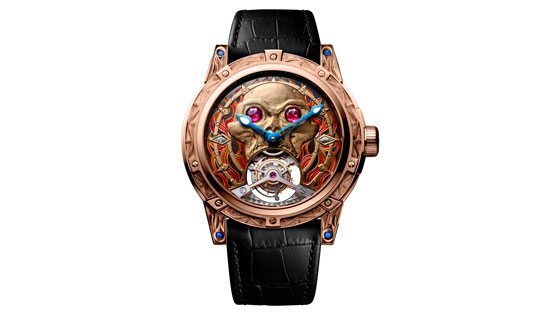 Ateliers Louis Moinet present Heat, stemming from a wish to highlight the extraordinary creations of our ancestors. This timepiece represents the force developed by humankind when it overcomes the challenges it must face, such as the conquest of fire, for example.
The engraving of an Australopithecus sits at the centre of the creation. Australopithecus is a hominid genus, one of the first species of humankind believed to date back more than four million years. The typical shape of its skull embodies the power of its will, and with its glowing red eyes it takes up the challenge of fire. It overlooks an engraving adorned with miniature paintings that symbolise the first flames mastered by man. The base is made of a natural stone, red pietersite, which also embodies the dancing of incandescent flames.

The 18K case bears flame-engraved lugs adorned with blue sapphires, while hand-engravings on the bezel enrich the fire theme. Beating at the heart of this model is the 60-second tourbillon LM 35 movement.

Heat comes in a presentation box adorned with a hand axe, a carved stone tool characteristic of prehistoric times. This was one of the world's first tools. It was extremely versatile and could be used for hunting and also as a flintstone to produce the fire so critical for our ancestors.
November 04, 2021