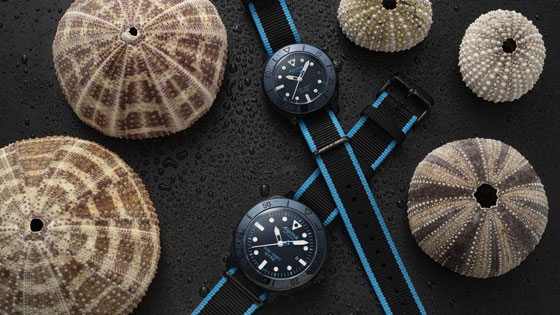 On World Ocean Day, Alpina not only unveiled two new limited series – one for women and one for men – of its eco-responsible Seastrong Diver Gyre Automatic watch, but also reiterated its commitment to associations fighting to protect the environment.
United by a significant, mobilising principle called We Shape the Change, the Geneva-based brand's ambition is to undertake a multitude of actions aimed at drawing the public's attention to current environmental issues, as well as partnerships, starting with Surfrider Foundation Europe and the Swiss company Wood'nShape, which manufactures wooden surfboards.

Since last year, Alpina has been committed to preserving the environment and Nature. Even if it is still in its early stages in terms of sustainable development, this is the direction in which the brand is heading for the upcoming years. Designing change, moving forward, living in harmony with its time and environment: these are the fundamental values advocated by all the actions undertaken by Alpina, present and future, to draw its community and the public's attention to environmental issues.

Entirely in tune with these values of sharing and respect between human beings and nature, Alpina is happy to renew its support this year to this international and environmental non-profit organisation, acknowledged for its daily work undertaken by nearly 1,800 volunteers in
13 European countries.

Alpina also announced a committed collaboration with Swiss company Wood'nShape, headed by architect Sébastien Meylan, which manufactures eco-friendly wooden surfboards. This partnership unveils a series of surfboards covered with a mural representing plastic waste. Called "Ugly Beauty", this series, which works as a triptych, represents the world map and illustrates the accumulation of plastic pollution in the oceans. The aim is to raise awareness of the environmental issues surrounding non-recyclable materials, the clogging of the oceans with plastic waste, as well as the alternative measures to be adopted, such as upcycling, educating the younger generation, and finding the right balance between innovation and preservation.

Featuring an environment-friendly case, strap and packaging, the Seastrong Diver Gyre Automatic symbolises the company's commitment to associations fighting to protect Nature.
July 15, 2021