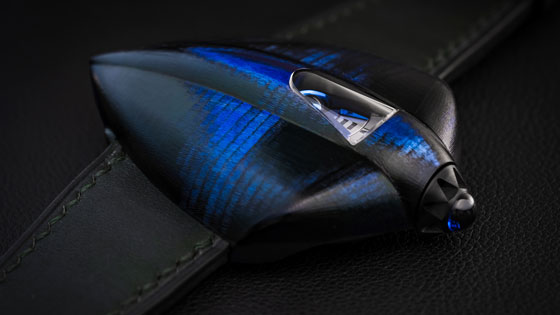 The new DW5 Empreinte, a one-of-a-kind creation belonging to the Maestri'art collection, stems from collaboration between Denis Flageollet, founder and master-watchmaker of De Bethune and Clara Martin, designer and winner of the first De Bethune/ECAL prize in 2019.
This prize aims to encourage graduates' research work. In Clara Martin's case, it was a deeper approach to exploration of "The Authority of Black" that the young designer had undertaken during the final year of her Master of Advanced Studies in Design for Luxury & Craftsmanship at ECAL (University of Art and Design Lausanne).

The challenge behind the timepiece is unveiled: that of developing the colour black in a new way so that it actually becomes matter. This dark colour, which has often been used by Denis Flageollet for many of the company's models, was also an omnipresent subject of study in Clara Martin's artistic research. The DW5 Empreinte thus marks the culmination of a lengthy process of reflection, experimentation and sharing expertise between two enthusiasts.

With the DW5 Empreinte, De Bethune examines the notion of time through a poetic object that defies any prejudices regarding black and metal. To divert their potentially pejorative symbolism, an unexpected watch was created, vulnerable through its delicacy and evoking a meditative state. Denis Flageollet, with his experience of blackened metal and his work on the bluing of titanium, took up the technical challenge imposed by the graphic choice of linking for the first time the very different processes of oxidation of titanium in order to achieve textured, mottled blue and black patterns. On the one hand, the science of vacuum deposition of metal oxides; and on the other, the mastery of fire.
June 10, 2021