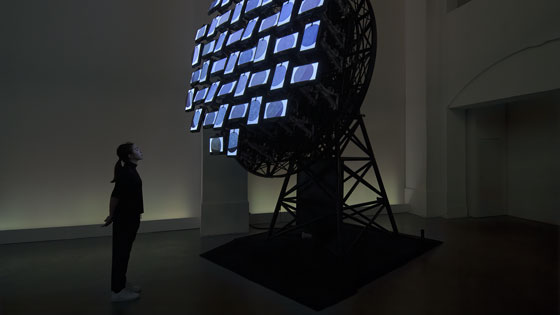 Audemars Piguet Contemporary is delighted to unveil the 5th Audemars Piguet Art Commission by Hong Kong-based multidisciplinary artist Phoebe Hui in the Duplex Studio at Tai Kwun, Centre for Heritage and Arts, Hong Kong from April 25th to May 23rd 2021, concluding with Art Basel in Hong Kong.
The large-scale, site-specific installation titled The Moon is Leaving Us was conceived and realised by Hui in collaboration with guest curator Ying Kwok, with the support of Audemars Piguet Contemporary curator Audrey Teichmann. The artwork explores historical and contemporary observations of the Moon in an effort to re- examine our relationship with it and embrace new perspectives on science through contemporary art. The Moon is Leaving Us is publicly accessible through a virtual exhibition tour and digital curator walk-throughs.

Viewers are introduced to Selenite – a mechanical kinetic robot that is the room's principal source of light – upon entering the main atrium of the Duplex Studio. This creation boasts 48 mechanical arms, arranged in a parabolic shape. Affixed to each arm is a screen, onto which fragmented images of the Moon are projected, ranging from historic drawings to visuals from NASA's and other online open-source data. The screens are overlaid with polarisers which only show a partial view of the lunar images. A team of engineers at Force Dimension, a leading innovator in high precision haptics technology who Audemars Piguet Contemporary introduced to the artist, shared their knowledge and expertise with Hui throughout her mechanical programming of Selenite. The large-scale sculpture presents viewers with a lunar visualisation that is rarely whole – a nod to the fact that society is kept informed about nature in a disjointed manner, one that is mediated by technological instruments.

The visitor journey continues upstairs. Selena, a hand-built machine programmed by Hui which produces one-of-a-kind ink drawings of the Moon's visible and invisible sides, is situated in the artist's Research Room along with objects used throughout the development of the installation. Hui came to deeply understand during her research-based process how we as humans have an incomplete understanding of the Moon because its visual identity is mediated by instruments and therefore subjective.
June 03, 2021