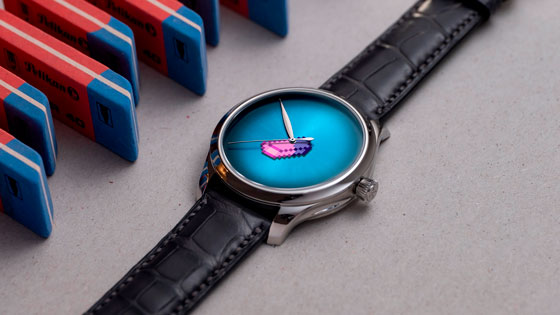 In 2015, the Schaffhausen-based company chose to push minimalism to the point of removing its logo from its Concept collection, making the sobriety of the fumé dials its true signature.
Like a bridge between past and present, the Endeavour Centre Seconds Concept model is also a reminder that, in the early days of watchmaking, only the movement was sometimes signed.

To illustrate this approach, H. Moser & Cie wanted to collaborate with seconde/seconde/, asking him to redesign one of its models. To mark the passing of the hours, a vividly coloured pixelated eraser replaces the traditional hand, a nod to the logo which has been erased to fully reveal the creation. The Parisian artist explains his philosophy: "The 'hand swap' – this principle designed to switch one or more hands on an existing watch – has become my signature and, for me, it is driven by a latent disrespect impulse. I want to upset the balance. Create disharmony. This dissonance is my way of disorienting the product, deconstructing it, so that I can then reconstruct it. To reveal an unknown facet or show another perspective. My perspective. I see the eraser as a banal everyday object which is taking power over the prestigious exceptional object. It is a metaphor for removal and for minimalism – notions clearly dear to H. Moser – but also a metaphor for that constant striving effort, for these fruitless attempts, often hidden from view, that we erase a thousand times before solving the equation, before successfully completing this work. To sometimes find what you seek, you must constantly make mistakes, and erase."
Beneath its apparent simplicity, the Endeavour Centre Seconds Concept X seconde/seconde/ conceals the self-winding Manufacture calibre HMC 200 beating at its heart. This timepiece is being produced in a 20-piece limited edition and is available only on the H. Moser & Cie website. Each watch is accompanied by an exclusive, numbered work by the artist.
April 29, 2021