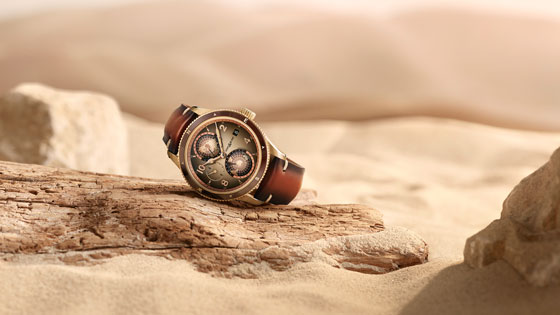 Inspired by the explorations of mountaineer Reinhold Messner, the watch Maisons has unveiled the Montblanc 1858 Geosphere timepiece as a tribute to one of the Italian's feats in the Gobi Desert.
In 2004, Reinhold Messner was the first to trek solo 2,000 km across the famous Asian desert. Following an old dream, the mountaineering legend wanted to cross this region lengthways in his own way: alone, completely on his own and without any logistical support. His 2,000-kilometer hike through the West Gobi and over the Altai Mountains proved an unprecedented borderline experience for him, physically and mentally.

Reproducing the rocky terrain colour scheme, the timepiece harmoniously combines a satin-finished bronze case with a special engraving on the caseback (Flaming Cliffs), a bi-directional shiny brown ceramic bezel, a smoked brown and beige lacquered dial, and a matching vintage-brown leather strap.
April 22, 2021