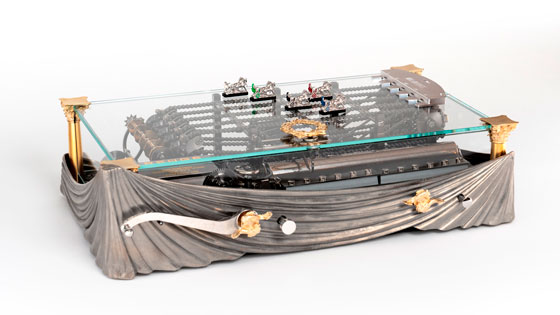 On the occasion of its 155th anniversary, Reuge presents Miliarius, an automaton honouring the Circus Maximus and its famous chariot races.
Miliarius was the name of the charioteer who won more than a thousand victories. A stellar athlete and shrewd strategist, he was revered by the public and the elite for his courage and bravery.

This creation offers both an animated show and a unique acoustic experience, combining the complex movement of a battle for victory with the melody of music. It is a journey and a tribute to the past, while resolutely future-oriented with the most modern technology and sound purity.

Four gilded columns, inspired by the Corinthian style, adorn the corners of this creation, while a pleated bronze drape marks its perimeter. The pillars support a glass top revealing the entire mechanism. The chariot racing teams on the surface are set in motion by an ingenious magnetic system that creates an impression of levitation. Each technical or ornamental feature has been carefully decorated and sculpted by hand by the artisans of the Manufacture. The most complex elements, as well as details such as the horses' manes and the veins of the laurel wreath foliage, are sculpted before being clothed in 18K gold.

When the lever is activated, five chariots pulled by ten horses are set in motion and move in a straight line. The race – which takes place without music – begins and bets are placed by spectators, transforming a complex mechanism (more than 2,200 components) into a playful artwork yielding an entirely random result. Only when all the horses have crossed the finishing line is the tune of the "Victory Parade" – the hymn that celebrated the end of every Roman race held in the Circus Maximus – reproduced with great mastery.
July 02, 2020