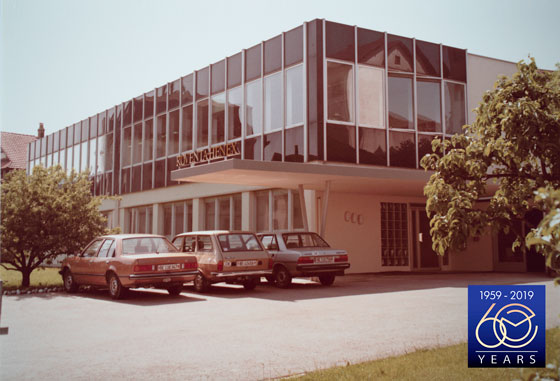 The complete mastery of all watchmaking professions, from receiving the initial brief to managing after-sales service and spare parts: such are the services offered by the "private label" company headed since the beginning of June 2019 by Jérôme Biard.
Roventa SA was originally founded in Biel/Bienne in 1959, and is still located there today, at the heart of a territory that boasts an internationally-renowned watchmaking ecosystem.
Thirteen years later, Roventa merged with a complementary firm, Henex SA, in Tavannes. This is still the second-largest historic location of what has been known ever since as Roventa-Henex. As a result of the merger, for the first time the two entities could between them offer a full range of services, spanning design, watchmaking development, assembly, and logistics. Roventa-Henex was one of the first to put together such a broad offering, and to this day remains one of the oldest and most respected firms in the watchmaking industry.
After just ten years of existence under this united banner, in 1983 Roventa-Henex opened its first watch manufacturing centre, on its home turf in Tavannes. A second facility, also in Tavannes, was opened barely four years later, in 1987. Today, over thirty years on, it is still occupied by the company, proving the wisdom of putting down local roots in watchmaking's heartland.
The team went on to acquire a new building in 1994. This now houses the Management, together with the Sales, Design, product development, and prototype departments.
The patient consolidation of Roventa-Henex's assets culminated in a Management Buy-Out in 1997: the management's confidence in the firm's long-term future was so strong that it decided to buy out its assets. As a result, Roventa-Henex is now part-owned by its employees – providing an absolute guarantee of complete independence, and the assurance that the firm's affairs are managed responsibly.
The firm's robustness and professionalism did not go unnoticed: in 2013, Munich investment fund Findos Investor offered to increase the firm's equity and help fuel its growth, in partnership with the management (which continues to own a minority stake).
It took less than two years for Roventa-Henex's new development projects to bear fruit: the Tavannes site was fully renovated in 2014. The goal was to regain a technological lead in certain key areas such as tests, certifications, and assembly, as well as improve the level of services in logistics, shipping, after-sales service, and components, whilst keeping room for future development – all on the same site that Roventa-Henex clients have been familiar with for 25 years now.
A broad range of services
In its early years, Roventa-Henex started out by supplying the biggest brands in watchmaking. Gradually, the firm has added more services to its offering, and now has expertise covering the full scope of the watchmaking value creation chain.
Design
One example of this is an entire department devoted to qualifying incoming requests and producing the first design components. Creative proposals for cases, dials, hands, straps, and clasps are just some of the ingredients used by Roventa-Henex to help each of its clients define their stylistic identity. A large number of designs for leading firms have been devised wholly or in part by Roventa-Henex – and have been for the past 60 years.
The Design department continues to offer a range of creative possibilities – and in addition to addressing brands' briefs, also caters to the expectations of end customers: Roventa-Henex occupies a central position at the intersection of many talents, enabling the firm to detect and even anticipate emerging fashions and trends. The company uses this constant intelligence to advise its clients, making sure they stay right up to date – whilst remaining true to their own distinctive DNA.
Development and engineering
Over the past 60 years, Roventa-Henex has gained unrivalled expertise in the market when it comes to watchmaking developments.
From three-hand models through to the most distinguished complications in watchmaking, the firm is able to advise clients at every stage of the development of their own models: technical choices, pitfalls to avoid, choice of materials, stylistic approaches, standards requirements (for diving watches, sports watches, COSC certified watches, etc.), traceability, legal compliance for precious materials (gold, diamonds), and more.
These highly-advanced engineering capabilities offer two very direct advantages: time-saving and reliability. These building-blocks are absolutely fundamental, ensuring that Roventa-Henex client firms can each build their own brand with complete peace of mind.
In 2018, the company dealt with over one hundred different projects – amounting to two or three new projects a week.
Prototyping
Roventa-Henex has its own workshops, in which the first prototypes of approved designs can be made. This capability delivers two advantages: responsiveness that is far better than market standards (a matter of days or weeks) – and the ability to have a prototype with virtually the same final appearance as that of the finished watch.
Roventa-Henex recruits its own qualified CNC craftsmen, further securing its commitment to independence and responsiveness. They are real artists: capable of bringing a sketch to life; dedicated to making ideas become reality; transforming projects into watches that can be mass-produced. What is more, by having its own CNC tools, Roventa-Henex has no need to resort to subcontracting – and can thus guarantee complete confidentiality for all its clients.
The best partners at the right price
For each of its clients, Roventa-Henex uses its bargaining power to the full in negotiations to obtain the best components, at the lowest possible cost, with the best lead times. Roventa-Henex is in a much better position in the marketplace than a newly-arrived client trying to negotiate on its own, thanks to the company's demand for large quantities, the trust nurtured within a network that has been established for decades, and the professionalism for which its name has been a byword in watchmaking since 1959. The company also boasts its own Asia office: SWIss TEChonology Far East Ltd (Switec), in charge of listing trustworthy partners capable of delivering the best components at the best prices, in line with the specifications agreed with each client by the engineers in Switzerland.
In addition to components themselves, this influence also extends to finished Swiss made quartz and mechanical movements, featuring complications up to and including chronographs and tourbillons. Each series of watches may include several different choices of materials such as steel, gold, or titanium, always with the same demanding standards in terms of supplies.
Industrialisation
Industrialisation may be a stage beyond prototyping, but there shouldn't be any differences as a result. And this where Roventa-Henex's expertise lies: ensuring fast, reliable production of any series of watches ordered by its clients.
With over 60 years of business to its credit, Roventa-Henex guarantees delivery times, quality, and reliability for all the watches it delivers – together with cost control and worldwide shipping for finished watches.

A huge partner network
The network of partners that Roventa-Henex has formed over the past 60 years is unlike any other in the world. The company was founded in the late 1950s – a golden age in which the foundations of contemporary watchmaking standards were laid. It has survived the birth and coming-of-age of quartz, turning what some saw as a crisis into an opportunity to develop an alternative to purely mechanical watchmaking (still in the majority today), imbued with a spirit of complementarity and customer service. The firm is now at the heart of the third major watchmaking revolution, the hallmarks of which are responsiveness, creativity, and interna-tionalisation.
Tests and qualifications
The ethos of Roventa-Henex, universally recognised within the industry as being "a serious company", can be summed up in the maxim "Trust, but verify". The firm has earned its reputation through an unwavering commitment to accepting only flawless components for the creation and assembly of the watches destined for its clients.
Water resistance, pull tests, strap twisting, and of course accuracy are just some of the tests that Roventa-Henex's laboratories conduct in-house, fully independently. Here again, this independence ensures that the projects with which the firm is entrusted remain fully confidential.
At the heart of Swiss made
Roventa-Henex guarantees compliance with the legal provisions for Swiss Made that came into effect on January 1st 2017. The matter is of particular concern to the company, and it played an integral role in the Working Group on the subject that ran for many months within the Federation of the Swiss Watch Industry. Roventa-Henex was fully involved in the discussions and strategic decisions with respect to the new criteria for Swiss Made, and applies the newly-agreed specifications.

Logistics, storage, and after-sales
The final set of services offered by Roventa-Henex relate to watchmaking "post production". In advising its clients well upstream on their purchasing policy and their management of shipping and returns, the firm has gained unique expertise in component stock management and deliveries to brands' service centres; in some cases, it even manages their after-sales service directly on their behalf. Making this unique possibility available to Roventa-Henex clients allows them to concentrate on their core business – building their brand and selling their watches.
A company with a vision
Having started out as a technical service provider, Roventa-Henex is now well on the way to becoming a global service partner. This vision is grounded in the company's ability to advise – and to perform. It's both a storehouse of best practices, tried and tested in the fires of experience, and an interface with all the blossoming creativity of a watchmaking industry that's undergoing constant renewal. Roventa-Henex is at the heart of a trust-based ecosystem encompassing everything from supply through to after-sales, including design, technical development, certification, and even inventory management.
Roventa-Henex is gradually positioning itself as a bespoke service partner, capable of bringing to bear just the right resources to address any challenge. Whether it's for one specific issue or to help build a brand in its entirety, clients can count on the same degree of professionalism – and the same levels of commitment.
September 26, 2019