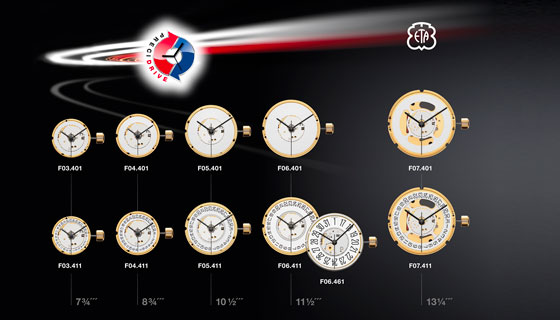 ETA presented this Spring at Baselworld a collection that focuses on what makes Swiss watchmaking famous and what is expected by those who purchase quartz watches: precision.
Using its new exclusive PreciDrive technology, ETA is proud to offer annual precision of +/- 10 seconds, or in other words, 0.027 seconds a day. This level of precision easily meets the criteria established by the Swiss official chronometer testing institute (COSC) for it to be awarded the label «chronometer».

This exceptional performance is made possible by a double system: on the one hand, using the thermo-compensation principle that allows the movement to be checked and regulated according to changes in the ambient temperature. On the other hand, by combining the quartz and an integrated circuit in a resistant ceramic housing and sealed in a vacuum to protect against dust and humidity.

This ultimate precision - the ETA F0X.xxx - is available in a choice of 5 calibre sizes from 7 ¾´´´ to 13 ¼´´´, with or without date. In addition to the PreciDrive technology, these movements offer the purchaser two supplementary functions: on-demand energy storage with the «stop second» option, as well as a battery end-of-life (E.O.L.) indicator.

It is equally remarkable that this integrated technology has not changed the original dimensions of the F0X.xxx collection at all, since the traditional heights of 2.50 mm and 3.60 mm have been maintained with a view to offering interchangeable movements with various cases.
This size does not limit the battery's theoretical life of 68 to 94 months, depending on the model.

This collection includes an 11½´´´ big date calibre with a date window that can be positioned at any point around the dial. In addition to clear readability, this symmetrical and modern design offers producers new design possibilities. The big date calibre complication combines two calendar discs layered one above the other: the upper disc features the digits 17 to 31, as well as an opening through which the lower disc - featuring the digits 1 to 16 - appears. An ingenious date system patented by ETA allows a date to be jumped semi-instantaneously.

Robust Swiss made brass movements will bring these highly reliable timepieces to life.
September 08, 2016