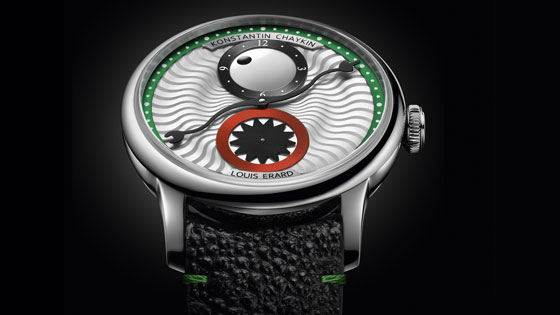 Louis Erard delivered his regulator as a sacrifice to a very strange creature: a grotesque saw-mouthed cyclops.
A mythological figure reinterpreted by Konstantin Chaykin, member of the Académie Horlogère des Créateurs Indépendants. Its reputation is worldwide and its inventiveness proven. He has also earned a reputation in the very special world of watches with faces.

The meeting between Louis Erard and Konstantin Chaykin gave birth to a strange creature. A one-eyed monster to which the mechanics give life. The difference is that this time we are not even looking at the time, it is the time that is looking at us: the hour is a single, large, round eye.

This cyclopean gaze takes up the original elements of the Wristmons and more particularly of Konstantin Chaykin's first Joker watch - whose eyes were made up of white discs marked with a dot, both pupil and indicator.

Except that this Cyclops does not come from Greece, he has crossed the Balkans. The evil eye of Slavic tales, he is called Likho. Konstantin Chaykin explains how it came about: "Every Halloween I created a new type of monster, i.e. wristwatches with a Halloween theme, such as the pumpkin head watch and the Dracula watch, for example. Looking for ideas for this story, I turned to the one-eyed Likho character from fairy tales."

Everything was ready for the meeting with Konstantin Chaykin. A new carte blanche, but still based on an imposed figure: respecting the architecture of Louis Erard's signature regulator, with central minute, hour at noon and second at six o'clock. All that was left for Konstantin Chaykin to do was to build the face with one eye. He made it the Likho's eye as a kind of protective amulet against evil spirits.

For the small second at six o'clock, the watchmaker dressed it in a disc with pointed teeth, turning like the devouring mouth of an ogre. Cross inspiration, as Konstantin Chaykin explains: "I remembered Francisco Goya and his Saturn devouring one of his sons. I thought of a Stephen King short story, The Langoliers, time eaters".

The monster was only missing an arm. The central minute hand will give him that. Konstantin Chaykin makes it cross the dial and gives it "two hands turning in a circle". And to complete the cartoonish character, the watchmaker has played with "specific finger combinations", which give the whole thing the appearance of an arrow: a point at one end, a plumage at the other; a finger stretched out on one side, a sign of the horns at the other end.

The creature is completed with a black toad strap and comes in two versions. A purple hour circle for the 39mm piece and a green one for the 42mm. The two versions form a diptych, proposed in a special box and limited to 28 pieces.
May 11, 2023