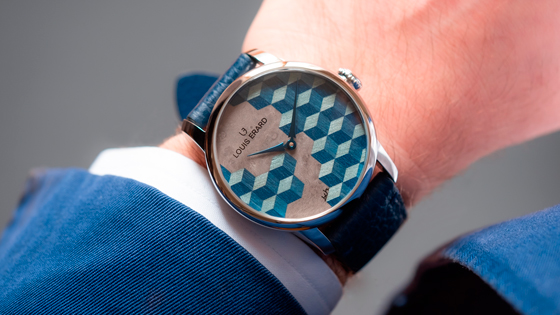 Louis Erard continues to showcase artistic crafts by unveiling the new Excellente Marqueterie in a 99-piece limited edition. Each dial is handmade, piece by piece, by an independent artisan, Bastien Chevalier, based in Sainte-Croix.
Exercised on such a tiny scale, marquetry pushes the boundaries of its own discipline. With such a pattern, marquetry becomes madness. For Louis Erard, the goal is always the same: to render the exclusive delights and follies of high-end watchmaking artistic crafts accessible not only in terms of price but also culture - and all in a resolutely contemporary spirit. The checkerboard expresses the spirit of the times: aesthetic, playful and eye-catching, with a trompe-l'oeil pattern that protrudes and hollows out under the light.

Louis Erard has borrowed the motif once before, in a series dedicated to hand guilloché. With this new creation, the challenge is intensified. Each facet is cut into the wood by hand with a saw. Each colour is in a different wood: three shades of blue-tinted tulip tree, and grey-tinted willow burl, cut in the direction of the grain. The cut must be surgically accurate to the nearest tenth of a millimetre, if the pieces are to be assembled without the slightest gap appearing in this jigsaw. Bastien Chevalier has developed his own technique for achieving this remarkable feat: conscious breathing, in the style of yoga masters.

Once cut, the tiny pieces are meticulously sorted and deposited with the tip of a scalpel under a binocular microscope, then fixed on the first mount. The assembly is then glued on the appropriate side. The back is prepared so that it can be attached to the dial's metal base, and then the outward face is delicately taken again to be sanded to the correct almost imperceptible hair's-breadth thickness.

With this model, Louis Erard highlights a rare craft, normally reserved for discerning collectors. Once again, the price remains totally unprecedented for this type of finish and level of exclusivity.
May 04, 2023