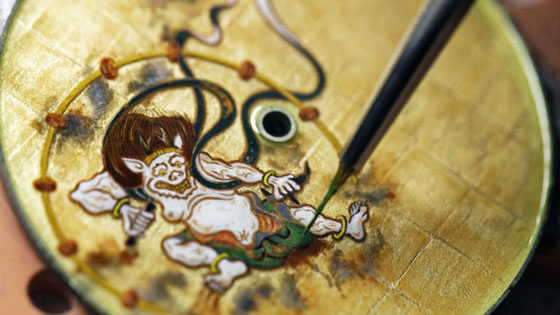 Sensitive to perpetuating and passing on artistic crafts, Vacheron Constantin participated in the exhibition Homo Faber, alongside guest of honour Japan which was presenting the work of 12 "living national treasures" as the country's exceptional artisans are known.
In reference to the welcome given to Japan and the close ties binding Vacheron Constantin with this country, the Geneva-based brand drew inspiration from Japanese mythology in creating the two Les Cabinotiers Thunder God and Wind God timepieces presented in Venice in April 2022. To do so, the Maison drew inspiration from works by Sõtatsu – a Japanese painter regarded as a national treasure in his home country – to create two single-edition Les Cabinotiers timepieces. These are depictions in ink and colour on a gold background of Fujin the Wind God and Raijin the Thunder God, appearing on a pair of two-panel screens made around 1626 and kept in the National Museum in Kyoto. One of the great figures of Japanese mythology and one of the oldest deities of Shintoism, Raijin floats in the sky, dancing with his drumsticks in his hand; while Fujin jumps rope with his windbag. These gods can be found on the dials of the two Les Cabinotiers watches, which are made by the expert hands of the Manufacture's master enamellers and engravers, alongside the gemsetter's work on the case. These two ultra-thin minute repeater watches are powered by Calibre 1731.

The 18K yellow gold dial is first adorned with intaglio-type fine line engraving to reproduce an irregular chequered pattern featuring matt and shiny surfaces creating the illusion of gold leaf decoration. A layer of transparent flux fired in the kiln is then applied to protect this base, which is thus ready for miniature enamel painting. Outlining the divinities is an extremely important step to ensure the application of the colours stand out clearly against the gilded background. Between six and seven firings were necessary to stabilise the colours of Fujin and Raijin on their clouds. A layer of overglazing flux, given a final polish using the lapping technique, concludes a process requiring a hundred hours of meticulous craftsmanship.

The case of both models is the object of particular care devoted to the fine line engraving of the bezel, caseband and lugs. The Raijin watch is engraved with volutes representing waves of thunder, while the minute repeater's lug is adorned with six baguette-cut rubies symbolising the power and energy of lightning. There are also similar intaglio motifs on the case of the watch portraying Fujin in order to represent the filaments of clouds blowing the wind. The slide piece is set with six baguette-cut tsavorites symbolising the vitality of the air currents.
May 12, 2022