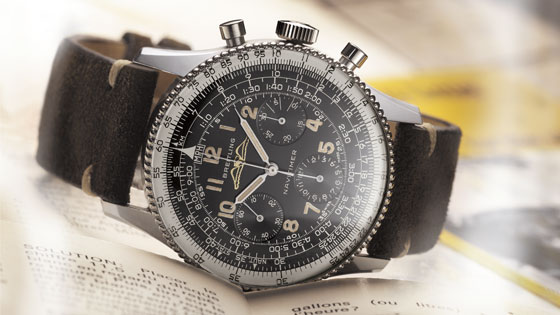 The relationship between Breitling and the Aircraft Owners and Pilots Association (AOPA) started nearly 70 years ago, when Willy Breitling developed a new chronograph concept for the association's members.
At the time, the AOPA was (and remains) the largest pilots' club in the world, counting nearly every US aviator among its ranks.

In 1952, Willy Breitling developed an innovative wrist-worn instrument that would enable pilots to perform such forward-thinking flight calculations as average speed, distance travelled, fuel consumption, and rate of climb. This early answer to the on-board computer was achieved by incorporating Breitling's patented circular slide rule onto the watch's rotating bezel. The name "Navitimer" was cleverly derived from a combination of navigation and timer. When it launched to AOPA members in 1954, the watch was an instant success.

This very first Navitimer, "completely designed and engineered to AOPA specifications", did not include Breitling's name or logo anywhere on the dial. Instead, it was the AOPA logo that featured prominently at 12 o'clock.

Throughout the 1950s and 1960s, the Navitimer continued to be the watch of choice for military and civilian pilots. Astronaut Scott Carpenter would even wear a specially modified Navitimer in space in 1962.

And it was not just aviators who were drawn to the Navitimer's uncompromising style and functionality. When the watch, featuring an unsigned version of the AOPA logo, hit the open market in 1955, it found fans among celebrities of the day, including Miles Davis, Serge Gainsbourg and Formula 1 champions Jim Clark and Graham Hill.

Today, some of the watch's most sought-after collectors' pieces are the vintage iterations and limited-edition tributes that showcase the association's logo. The onetime "official watch of the AOPA" has become a cultural phenomenon, and those origins will continue to have a strong influence on the future of the Navitimer.

Breitling and the pilots' association have remained close allies throughout the decades, partnering at aviation events and on programmes to help aspiring pilots enter the field.

To mark the 70th anniversary of this timepiece, the organisations jointly announced the Breitling Aviation Scholarship, which will cover the costs for a young person in the US to complete a full pilot's training course. The deadline to apply is 11 February 2022.
January 20, 2022