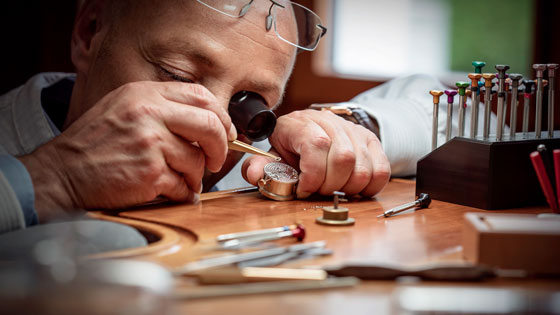 On September 30th 2020, there were 57,550 people working in the watch and microtechnology sector, 1,553 fewer than the previous year (-2.6%).
This is according to the annual census of the sector carried out by the Swiss watch industry employers association (Convention Patronale). This decline reflects the complicated economic situation faced by companies, as well as the effect of the use of reduced working hours (RWH). The latter measure has indeed proved essential in supporting companies particularly affected by the health crisis and to preserve existing staff. Given the lack of visibility as to how the situation will develop, it is feared that this decline will continue in 2021.

Representing a true barometer of the sector, production staff numbers are normally the most severely affected by unfavourable periods. Given that 2020 was a year that stood out in every respect, the decline did not spare any professional category.

Administrative staff numbers fell by 604 units (-3.8%), management staff by 77 units (-2.5%), and production staff by 857 units (-2.1%). The number of home-based staff decreased by 13.3, a strong drop that is nonetheless not very significant, in that only a hundred or so people work in this manner.

The number of workers with a trade diploma remained stable (-0.2%), at 26,403, now representing 47.3% of the total workforce. The decrease in the proportion of unskilled workers (-6.2%) has resulted in an increase in the proportion of skilled workers in the sector, which now stands at a record 71%.

Neuchâtel (15,099), Bern (12,333) and Geneva (10,347) remain the top three cantons in terms of workforce numbers. Together with Jura, Vaud and Solothurn, these cantons form a watchmaking region known in French as the arc horloger and accounting for the bulk of the industry's human resources, with 53,134 workers (more than 92% of the total workforce).

Due to the activities of the companies composing their industrial fabric, the cantons of Neuchâtel (-810, -5.1%) and Bern (-307, -2.4%) are most severely affected. The cantons of Geneva and Jura recorded stable workforce numbers, or even a slight increase for the former.

A three-quarter majority of companies – 526 in all employing 49,248 people – are subject to the collective labour agreement (CLA) signed with the unions in the sector. This means that in 2020, 85.6% of employees were employed in companies covered by the industry's CLA. The watch industry is one of the country's economic sectors most widely governed by such agreements.
January 07, 2021