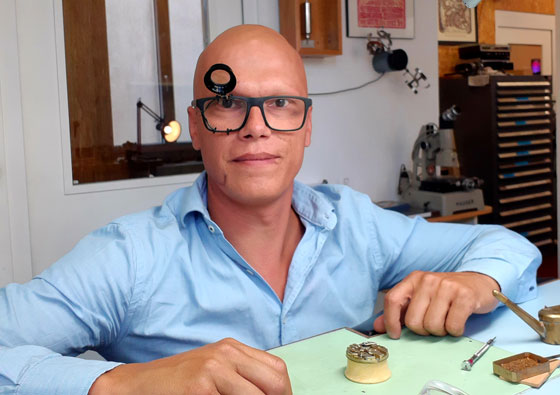 Located on the "balcony of the Jura vaudois" in Sainte-Croix, Sylvain Pinaud's workshop is home to hand-crafted horology at the crossroads between art and science.
A true mechanical kingdom in which the intrepid artisan gives free rein to his passion for the beautiful objects that mark off time.

This modestly sized (around 30sqm) workshop in Sainte-Croix is packed with tools, hand-operated machines, plans and sketches... But above all, this place is teeming with ideas just waiting to become reality. Upon stepping inside, visitors become aware of a splendid ticking sound pervading the atmosphere and immersing them in an atmosphere teeming with creativity, passion and a deep respect for artisanal watchmaking. A closer look reveals a movement in action and just begging to be observed. "This is the result of a collaborative endeavour with François Junod. He handles the automaton part and has entrusted me with the watchmaking part," reveals the resident craftsman.
Sylvain Pinaud, who likes to refer to himself as an "engine manufacturer", enjoys making full use of his three workbenches. Rather than endless discourse, everything here is about pure creativity. A movement in the making here, a sketch of a larger project there, cutting going on in a corner... everything is intermingled in a meticulously orchestrated rhythm. The wall displays a set of historical draw plates, the famous tools formerly used to make screws that have now disappeared. That's because restoration enjoys an important place in this workshop, as does innovation.
Sainte-Croix network
Despite being entirely independent, Sylvain Pinaud cultivates the art of networking, a real pillar and strength of this region perched at more than a thousand metres above sea level. "Sometimes, depending on the amount of work to be done, a friend comes to lend a hand. We help each other out, loan each other tools, parts, etc. Here, independent artisans support each other whenever they can. It's a real strength in this region. This networking is essential, but more importantly, it's nearby. I work regularly with Dominique Mouret, François Junod and Vianney Halter."
A versatile watchmaking artisan
Through his particularly varied experiences acquired in Le Locle, Geneva and Sainte-Croix, Sylvain Pinaud has always felt the urge to have his own 'playground'. After working in a major watchmaking company, his wish to do something different and to fulfil a desire already present when he graduated from training school became the obvious choice. "It was time to step out of my comfort zone and move away from a soulless, production-chain approach to watchmaking in order to rediscover the pleasure of artisanal mechanical watchmaking. Moreover, without even really knowing when, how or where this might happen, I had begun to equip myself with equipment, tools and machinery as soon as I finished my studies."

Sylvain Pinaud devotes his expertise to serving his clients and offers partial or complete solutions for the development and production of watchmaking components. Whether for small five-to ten-piece series or one-of-a-kind creations, a whole range of feasibility studies, prospecting, prototyping and approval processes are involved in bringing the final timepiece to life. From initial design to production, including movement construction, assembly and finishing touches, the artisan covers a wide range of activities in an extremely responsive manner. "When a customer brings me a movement that I start assembling, if a problem arises, I take it apart, use my time clock and keep right on."
Sylvain Pinaud also offers a repair, restoration and maintenance service for all horological objects (watches, floor clocks, table clocks...), from all brands and all periods. His equipment and know-how enable him to replace a defective or missing component while respecting the history of the object. A solid network of partner artisans also enables the restoration of bronze or wooden dials, cases and cabinets.
Artisanal Monopusher Chronograph
Developed as part of the "Meilleur Ouvrier de France" (Best Artisan of France) competition, this model – of which 80% was made in the Sainte-Croix workshop – was truly a springboard for Sylvain Pinaud and enabled him to win the precious MOF title after a year's work. It represented not only an opportunity to take on a major challenge, but also to breathe life into an intensely personal vision of watchmaking. There were no compromises; everything had to be aesthetically pleasing and functionally effective right down to the slightest detail.
Only the gear train and escapement of the original ETA 6497 movement forming the basis of the project were retained. The other elements (bridges, mainplate, winding system and balance) were completely rebuilt and designed so as to fully integrate the chronograph.
The watchmaker naturally chose a traditional construction – involving a horizontal clutch and column – that was beautiful, simple and efficient. Delicate functions, or others subjected to strong constraints, are jewelled. Each spring, jumper or lever has been designed to ensure harmony with the overall mechanism and guarantee optimal operation.
While a few components of this prototype were CNC-machined, the vast majority were made by hand using conventional machines. Hardening, tempering, decorating and polishing were all done in a traditional way.
"Although there are a lot of requests from customers, retailers and collectors, I always prefer to spend as much time as possible in the workshop. That's where the magic happens. My goal is not to get lost in the mass of work. It is essential to continue making watches that I like, which remain coherent and above all of high quality."
Portrait
The son of a watchmaker and accustomed to workbenches since childhood, Sylvain Pinaud discovered the profession at his father's side. Captivated by his work and convinced that it was a true vocation, he naturally enrolled in the Morteau School of Watchmaking to further his knowledge and develop his skills. Upon graduating with his diploma, he acquired solid experience, first in certain modest workshops and then with major watch manufacturers. After more than 15 years, he had the opportunity to explore a new approach to the trade and at the end of 2017, he opened his own workshop in Sainte-Croix where his fascination for the history, mechanics, art and science of watchmaking has been steadily growing ever since.
September 10, 2020