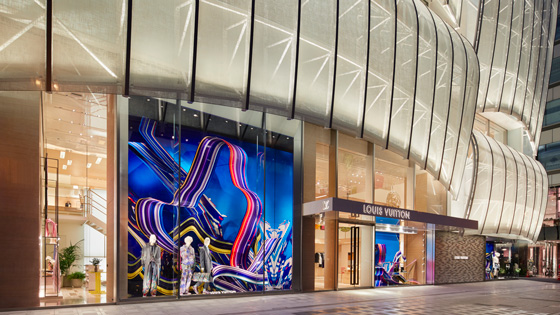 At the beginning of February, Louis Vuitton celebrated the opening of its Maison Osaka Midosuji.
Born from the close collaboration between Jun Aoki and Peter Marino, this four-floor space honours the heritage of Osaka, the first port city of the Japanese archipelago. The luxury group is also presenting its very first coffee here, in partnership with celebrated chef Yosuke Suga.
Smooth sailing
Architect Jun Aoki is known for his work on a number of landmark Louis Vuitton stores in Japan and around the world, including New York's Fifth Avenue Maison. Drawing on Osaka's history as a sea-faring city, Aoki imagined a light and airy white structure inspired by the traditional Higaki-Kaisen cargo ship and its billowing sails. The purity of the façade is reinforced by the use of metal fretwork motifs at ground level, giving the impression of a ship floating on water. The design of the façade also allows for the optimal use of natural light. By illuminating the different levels, the store breathes the city's energy, while offering clients a sense of calm and respite.
Waves
A celebration of swirling, lucid colours announced the grand opening of the new Maison in Osaka's famed Midosuji area. In collaboration with artist Kenta Cobayashi, who was a photographer on the House's Fall-Winter 2019 Men's advertising campaign, liquid crystal distortions were modelled into a bespoke sculpture that ribbons across the store's windows. As a juxtaposition to the architecture of the Maison, itself a poetic homage to the minimalism of Japanese craftsmanship, these windows blur the lines between digital fantasy and reality, a speciality of Cobayashi's imagery, and acknowledges Japan as a hub of technology.
Wood, metal and paper
Inside, architect Peter Marino has followed similar inspirations, connecting the store's four floors to both the maritime feel of the building and to its connection with Japanese traditional culture. In spaces dedicated to a complete offering of the different universes and collections, wooden floors give the impression of decks, with wood-clad pillars and metal ceilings reminiscent of the spirit of a grand yacht embarking on an exciting adventure. Traditional Japanese materials such as woodwork and origami washi paper feature throughout.

The vast spaces are worked to create varying volumes, from spectacular halls to more intimate corners and lounges. The ground floor is devoted to women's accessories, while a mezzanine floor, dedicated to luggage and the Art of Travel, allows visitors to gain a bird's eye view of the generous volumes of the main hall. Designed especially for the Maison's opening, exclusive women's products, such as a mink hoody, blue sapphire Tambour watch and B Blossom necklace make welcomed appearances around the store, while a complete offering of women's ready-to-wear and accessories by Nicolas Ghesquière, Louis Vuitton's Artistic Director of Women's Collections, occupies the third floor. The fourth floor is home to Louis Vuitton Men's Artistic Director Virgil Abloh's complete offering.
Objets Nomades
Throughout the Maison, Objets Nomades bring their colourful creativity. On permanent offer, they are placed to emphasise or contrast with the architecture, hanging down from the generous heights of the store's floor. Launched in 2012, the Louis Vuitton Objets Nomades collection of designer travel and home related objects keeps alive the House's long tradition of beautifully crafted travel-inspired pieces. Fourteen of the world's most renowned designers, including Yoshioka Tokujin, Atelier Oi, and Nendo amongst others, have imagined 56 stunning Objets, which have then been made by Louis Vuitton. Sharing a sense of intuitiveness, desire and pleasure, these pieces continue Louis Vuitton's tradition of offering inspiring and surprising designs anchored in evolving visions of travel.
Louis Vuitton and the Arts
Historical Louis Vuitton archival objects and unparalleled artisanal savoir-faire provides clients with an entirely unique private shopping experience surrounded by works of art. In a silent discussion between past and present, original trunks sit alongside nearly 20 contemporary artworks selected or commissioned by Peter Marino. Offering a counterpoint to the cool lines of the building, artworks by Vik Muniz, Polly Apfelbaum, Kimiko Fujimura, Nicola de Maria, and Ida Tursic & Wilfried Mille present abstract bursts of colour or depict natural landscapes throughout the four floors. A unique work by Gregor Hildebrandt, "Osaka Schwimmbad (Anne)", (composed of cut vinyl records, wood, canvas, acrylic) reflects Osaka's relationship with its cherished bay. In addition to the hanging artworks, in-store Louis Vuitton artisans help make each client's item their own by imagining personalised and unique hand-painted illustrations for their leather goods and hard-sided pieces.
Le Café V and Sugalabo V
Located on the top floor of this spectacular new building, Le Café V features a menu curated by Yosuke Suga. The generous terrace and its adjoining bar can be visited during the day and evening. Along with a unique Cocoon Room, they make up the very first café to open within a Louis Vuitton store internationally. The top floor makes optimal use of its proximity to the sky, with a sea-like terrazzo floor and coloured roof decorations reflecting and refracting the rays of the sun.

Known for his Tokyo restaurant Sugalabo, recently named as one of the best in the world by the exclusive "The List" ranking, Yosuke Suga is passionate about showcasing local Japanese ingredients in his unique establishment, welcoming a select few diners per evening.

A protégé of internationally celebrated French chef Joël Robuchon, Yosuke Suga opened his Tokyo restaurant in 2015 to create an intimate and exciting dining experience open only to those in the know: the booking process and entrance to this restaurant are a closely-kept secret. Next to Le Café V's cocktail bar, a speakeasy-style door allows access to the restaurant Sugalabo V, also housed within the building.

Hidden behind a speakeasy-style door, this exclusive address for a small group of diners is open only in the evening and accessed independently of the Maison. The restaurant features an open kitchen, as in the Tokyo Sugalabo, and architectural details from the original venue, alongside nautical materials and details connecting to the central theme of the building's design. Louis Vuitton Objets Nomades designer Tokujin Yoshioka designed a Monogram-inspired charger plate, from which a variety of the restaurant's crockery has been developed.
May 20, 2020