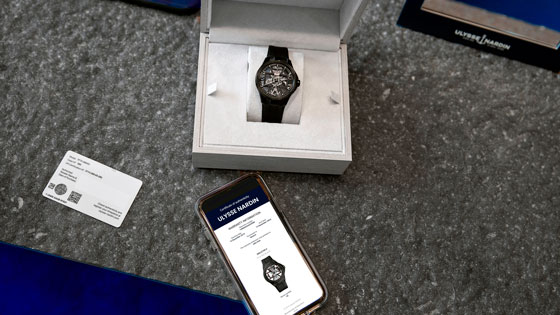 Dedicated to providing a cutting-edge technology service and significantly improving its customers' user experience, Ulysse Nardin is the first luxury manufacturer to deploy blockchain certification to all its collections.
Remember that blockchain is a technology that can be used to store and transmit information or transactions. It is a global digital database shared among multiple users that can, at any time, using a cryptographic system, verify the validity of information, add data and record a transaction. Ulysse Nardin's approach used is to store the "digital signature" of all PDF warranty certificates in the form of a "hash" – i.e. an encrypted string of characters – on the Bitcoin blockchain.

Therefore, a digital document, such as a warranty certificate in this case, becomes tamper-proof when protected on the blockchain. The registers of "hashes" are publicly accessible, anywhere in the world, at anytime, thereby removing the risk of losing, forgetting or falsifying physical warranty cards, traditionally provided with the watch at the time of purchase. Another advantage is that this certificate becomes extremely useful for the after-sales service (a reliable transaction history) or when it is offered as a gift or resold (previously owned watch market). The physical guarantee card will continue to exist, since thanks to its "bubble tag", customers will be able to extend the watch warranty to five years and thus directly generate their online blockchain warranty certificate.

So, essentially, when a customer buys a Ulysse Nardin watch, they must enter it on the Ulysse Nardin website using the physical "prooftag" warranty card. They will then receive a personalised digital certificate in a PDF format containing all the data and information about the purchased product. The signature of this warranty document is anchored in the blockchain via its "hash", i.e. the document's digital fingerprint.

Thanks to the advanced cryptographic methods and the strong decentralisation of the Bitcoin network (the first blockchain created more than 10 years ago with high-level data reliability), putting in place this certificate is an extremely innovative project in the sense that it does not use a third-party company to ensure the validity of the certification.
January 30, 2020