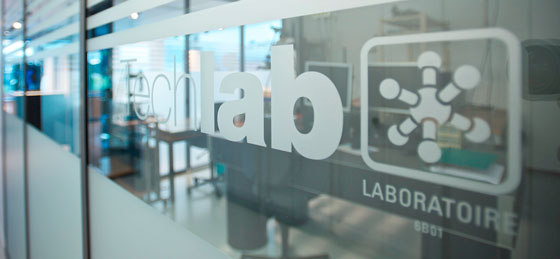 A French-Swiss company that is a leader in the acquisition and processing of signals and images for measurement, testing and quality control, Qualimatest has been serving its international customers for three decades.
A French-Swiss company that is a leader in the acquisition and processing of signals and images for measurement, testing and quality control, Qualimatest has been serving its international customers for three decades.

Whether for checking the quality of extremely small timepieces, the geometry of rail tracks or the colour of popcorn, Qualimatest (QMT) offers its diverse range of customers solutions adapted to their individual needs. To date, hundreds of systems have been developed, installed and maintained worldwide.
Background
Founded in 1989, Qualimatest began its history as a materials science laboratory. The small company had three employees at the time. In 1990, it marketed the first computerised image processing system. These devices did not yet exist on the market, so QMT developed them entirely in-house. From 1993 to 1997, it developed equipment for material characterisation, such as automatic microhardness measurement of extremely small watch components. Multimicro, the first dedicated device, allowed 100% automatic measurement of Vickers hardness and dimensional measurements of very high-precision components. This development, initiated by the watch industry, was deployed throughout Europe in the railway, aeronautics and automotive industries. Some of this equipment is still operational today. From 1998 to 2007, the firm integrated vision and automation systems. The company also became a special partner of National Instruments for the design of systems integrating its products. In 2001, QMT was promoted to the unique title of "Select Integrator" (worldwide) in Switzerland, thereby joining the very limited circle of firms to reach this level worldwide. From 2002 to 2010, QMT operated a branch in the Bernese region to serve the German-speaking Swiss market. From 2007 to 2014, automated optical inspection was integrated and a whole range of products was offered to customers. Today, QMT offers its many international customers tailor-made products and solutions for automated quality control.
QMT Group
Already active on the French market, QMT acquired Saphir in 2014, with which it had been working for many years. The QMT Group was thus created, with three entities. To date, more than 40 employees have contributed to the success of the group, which operates in the watchmaking, medical, railway, automotive and aeronautical sectors.
Types of quality control
There are many types of quality control, such as optics, acoustics & vibrations or X-rays. Each of these different operating modes enables in-depth analysis of a component regardless of its size. On the basis of predefined criteria, an action results, such as the elimination of a component that does not meet the required standards.
Based on the different control modes, QMT offers a range of equipment from the catalogue (standard products). These products can be customised according to individual needs (F4U – Fit For You program). Tailor-made solutions, based on defined specifications, can also be implemented (M4U program – Made For You). These can be industrialised for series production (OEM program). QMT engineers are therefore able to develop software (QMTSoftware), measuring stations (QMTCheck), control devices (QMTControl), sorting machines (QMTInspect), embedded systems (QMTEmbedded) or even complete test benches (QMTBench). Each request is processed and developed individually.
Some practical examples of applications: in the watchmaking field, QMT offers high-precision optical equipment capable of measuring the quality of turned parts, dials or discs, or the daily rate of calibres or finished watches. The company also equips movement assembly benches. In the medical field, QMT has developed devices to measure the quality of glass syringes or plastic pipettes. It has also created a final test bench (QMTBench) that can be entirely sterilised and is designed to be installed in a clean room for the control of gastric rings. In the railway sector, it works closely with Speno International, a company that designs, develops, manufactures and operates machines for reprofiling rails and tracks worldwide, for which it has designed embedded verification systems (QMTEmbedded). High production volumes with practically zero acceptable defect rates are a particular feature of the automotive industry, and QMT supplies a large number of measuring stations (QMTCheck) for high-speed automatic lines or automatic sorting machines (QMTInspect) that can check and sort up to ten parts per second.
Partnerships
Throughout its thirty years of experience, QMT has collaborated with various institutions, in particular with the Federal Institute of Technology Lausanne (EPFL), with which it developed the QMTSubFace platform, the first system serving to maintain human criteria in aesthetic quality control, an asset particularly appreciated in watchmaking (satin brushing, polishing, etc.). It also cooperates with Innosuisse as well as the Centre suisse d'électronique et de microtechnique (CSEM).

Some examples of equipment
QMTProjector-300: the fourth generation of the QMT Projector range, this equipment, which benefits from the latest innovations in optics and technological advances, can measure components ranging from 1 to 63mm. Versatile and easy to use, it is fully integrated (without an external computer). It is also modular by nature and can also be customized through the "Fit For You" program.
QMTInspect-200: compact and ergonomic high-speed sorting machine, specially dedicated to contactless sorting of cylindrical parts (pins, connectors, pins, etc.). It is equipped with a high-precision machine vision system. Its autonomous operation ensures the sorting of small and large series, the management of batches and the guarantee of zero defects. The large number of measurements performed facilitates understanding of the manufacturing processes and ensures perfect traceability.
QMTProjector-Dial: measuring device dedicated to the control of dials and discs. The heart of the equipment is a high performance optical system to take very high quality images of the entire product. The control is performed by the operator on the basis of this image and the CAD file superimposed automatically. The performance of this overlay and the entire view of the product allows very fast and accurate control. The latest QMTMesure-Pro software also offers the possibility of integrating automatic measurements. The QMTProjector-Dial can also be customised with the "Fit For You" program.

QMTLubcontrol: vision station for high-resolution visualisation and control of the lubrication process of SVM equipment. Optional options are the recording of the lubrication film to improve the control of the process as well as the automatic control by image processing of the smooth running of the process. These options allow improved control to ensure proper lubrication of movements.
QMTProTime-300: control station for measuring the daytime running of completed watches and movements. The measurement is based on taking two time-spaced product images that are temporally referenced through a precision timebase. The time indicated by the watch or the movement in both states is given by the position of the hands which is defined in the high-resolution image. The step can thus be calculated thanks to the difference between the difference of state of the watch and the time difference defined by the time base.
Future
In the age of Factories of the Future and connected industry, automated quality control systems have become an increasingly important part of the industrial ecosystem. With the objective of quality and operational excellence, the equipment dedicated to defect identification offered by QMT contributes to reducing costs and ensuring the irreproachable quality of the work delivered.
In our big data era, QMT is studying the possibility of leveraging the thousands of datasets emanating from tests performed with its various measurement equipment by offering analysis and prediction services. These could provide users with valuable information about process control and product design.

While Ivan Meisnner, CEO of the QMT Group and president of the Geneva-based OPI (Office for the Promotion of Industries and Technologies) loves to say that the company's main quality is its responsiveness and flexibility, he also likes to quote Leonardo da Vinci: "Simplicity is the ultimate sophistication.
Certifications and awards:
ISO 9001 since 2011. With this certification, QMT is committed to applying quality standards, environmental legal requirements and quality manual rules as well as maintaining and developing an ISO 9001 certified quality management system. In particular, the firm undertakes to meet its clients' requirements and to comply with legal and regulatory requirements.
ISO 13485 since 2014. Linked to the medical field, this standard guarantees that QMT develops medical devices and quality management specifically for this industry.
QMT is also a GOLD NI partner, holding National Instruments certification since 1991. QMT is one of the ten members that have been part of the program since its inception. The only Swiss company certified at Gold level, it is also a specialist in the field of machine vision. This background demonstrates its mastery of National Instruments technology, both in software and hardware.
In 2015, Geneva's Chamber of Commerce, Industry and Services (CCIG), Department of Security and Economy (DSE) and Office for the Promotion of Industries and Technologies (OPI) awarded Qualimatest the Innovation Prize.
June 06, 2019