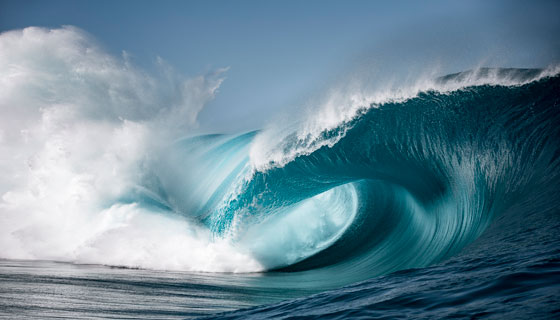 Just a year after the arrival of Fred Buyle to Ulysse Nardin's family of explorers, the maritime watchmaker is proud to announce its partnership with a talented new photographer, a hunter of moving water, light, transparency and poetry: Ben Thouard.
Thouard grew up in Toulon, in the south of France, near Marseille. Not known for its waves, it was still enough to give him the "surfing bug" at just eight years old. Around the age of fifteen, he found an old film camera in the attic of his family's home. Curious, he bought himself a few rolls of film and quickly discovered a second passion: photography.

In love with the ocean, Thouard chases waves, their strength and their clarity in a quest to capture their beauty and emotion. With over two million breathtaking photographs of water in motion, Thouard has just published his first art book, Surface.

Having begun as a surf photographer, Thouard quickly decided to move towards what he calls "artistic" photography. He came to seek the timelessness of nature by caressing the surface of the water with his lens. Under water or on it, Ben Thouard's photos uproot every point of reference in a play of light that does away with the notion of gravity and time. Above, below or on the wave is of no importance. What counts is the texture, depth and sparkling beauty of nature and the elements. Thouard currently lives in Tahiti, which he especially loves for its clear, turquoise waters. It's not hard to understand why. His photos, bathed in shades of blue, grey and white, are deeply moving. Aesthetic, timeless and "never-before seen", they have brought him international renown and several prestigious awards. But not without hard work! Ben Thouard takes to the water at carefully calculated moments, in which nothing is left to chance. His shots sometimes require more than a full day of work spent in the water measuring the sun's rays with almost surgical precision to capture mere seconds. Months of work for a single photo, a single wave. An instant.
May 02, 2019