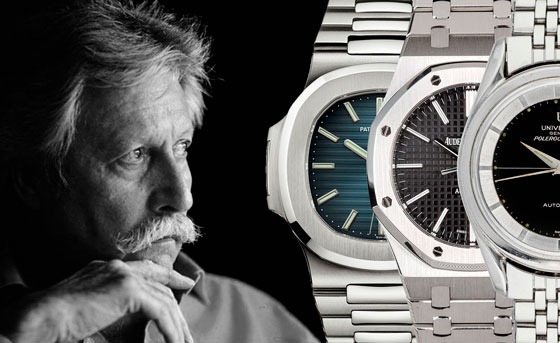 The Gérald Genta Heritage association has been established, its purpose being to pay tribute to a legendary designer and to encourage young talents. Chaired by Evelyne Genta, its advisory committee includes international leaders and experts in the luxury watchmaking sector.
February marks the formal establishment of the Gérald Genta Heritage Association, which aims primarily to pay tribute to one of the greatest watch designers in history and to encourage and reward young talents. Supported by the world's pre-eminent horologists and industry experts, Gérald Genta Heritage will focus on raising awareness around the generosity, creativity and visionary spirit of the "Picasso of watches" who was the genius behind many legendary timepieces that brought an unparalleled contribution to the sector.
Chaired by Evelyne Genta, who worked alongside her late husband for almost 20 years as Commercial Managing Director of their joint business, the Association brings together qualified individuals, undisputed points of reference from the profession and admirers of the Maestro's heritage.

Evelyne Genta, President of the Association, said: "My motivation is not only born from love for my late husband; it also comes from my unwavering determination to stoke the fire of his memory and share our passion for his legendary creativity, which generated many masterpieces in luxury watchmaking history. In addition to this, the encouragement and mentorship we want to bring to designers and pioneers of tomorrow is an integral part of our Association's raison d'être." She added: "It is in this perspective that I would like to invite watchmaking enthusiasts and lovers of Gérald's legacy to join us so that his innovative work and memory continue to shine, encourage and inspire the young talents of today."
An Honorary Committee of about 15 members will be regularly consulted on the main decisions of the Association, as well as closely involved in the designation of future nominees and laureates. The activities of the Association will include events, exhibitions, conferences, contributions, publications, digital communications and press relations.
Gérald Genta, watchmaking Master of modern times
Charles Gérald Genta was born in Geneva on May 1st 1931; to a Swiss mother and an Italian father. After his studies as a goldsmith and jeweller, which earned him a Swiss federal diploma, he was recruited by Universal Geneva, one of the most renowned watchmaking manufacturers, particularly for its chronographs. In 1954 and at the young age of 23, he excelled by designing the SAS Polerouter, a watch which commemorated the polar flights of the SAS airline (Copenhagen-Los Angeles via the North Pole). Polerouter became one of the brand's greatest successes.

Following this collaboration which lasted into the mid-sixties, many Swiss watchmaking firms called upon the young designer. First of these was, Omega, for whom Gérald Genta renewed their Constellation collection and the new range was hugely successful. In 1970, the Maison Audemars Piguet approached him to design the Royal Oak, which later became their most iconic model. Genta got his inspiration for this piece after having seen a diver in a helmet attached to his suit with eight screws. This octagonal shape was revolutionary, and the first luxury watch to be made from steel, remaining even today a signature of the Audemars Piguet brand. At the end of the sixties, Patek Philippe also hoped to benefit from the creative genius of Gerard Genta. A few years later, Gérald Genta created the legendary Patek Philippe Nautilus, inspired by a transatlantic ship. This new steel watch, featuring a bezel with softened angles, represents a subtle balance between a sports and luxury watch. It remained in production for 30 years. Gérald Genta is therefore the creator of the SAS Polerouter, the Omega Constellation, the Royal Oak for Audemars Piguet, the Nautilus for Patek Philippe, the IWC Ingenieur, not to mention his numerous collaborations with Cartier, Van Cleef & Arpels, Chaumet, Hamilton, Bulgari, Seiko, Timex, etc.
Alongside these collaborations for the finest watch brands, he created his own company in 1969, developing his eponymous brand and producing exceptional pieces for unique clients. He was constantly creating and innovating, by combining new shapes and materials with major watchmaking complexities. Always working towards an unprecedented idea, strongly inspired by painters and innovative designers, he quickly earned respect and high esteem from the entire industry and luxury watchmaking enthusiasts throughout the world. One of his most famous pieces, the Grand Sonnerie, that made the same chimes as Big Ben's bell, was considered the world's most sophisticated wristwatch. Finalised after five years of R&D, it was a true masterpiece. For his exclusive clients – including the King of Morocco, the Sultans of Oman and of Brunei, the King of Spain, the King of Saudi Arabia, the Queen Mother of England, statesmen, leading businessmen, sportsmen, artists, singers, and actors – he personally created unique, prestigious and audacious models, some of which took several years to emerge. In the 80s, he obtained a license from Disney to design various models decorated with the most iconic Disney characters.
From 1983 to 1999, he travelled the world with his wife Evelyne to develop and promote their brand, Gérald Genta. After the divestiture of his company to an Asian corporation in 1999 so the Maestro was able to fully dedicate himself to his life as an artist and designer. Gérald Genta pursued his activities as a watch designer under the brand "Gérald Charles", which he launched in 2001. Several bold models were born from this new name, including the Maestro Tourbillon Carrée.
He passed away in August 2011 at the age of 80. In the course of his life he designed more than 100,000 watches for the most prestigious watchmaking companies and his eponymous brands. Above all, his vision and savoir faire helped break boundaries, shake up all pre-existing norms and rules, and bring the specific requirements of watchmaking closer to the creative power of art; ultimately establishing new standards that were to be carved into history and redefine the future. The influence and passion associated with the "Picasso of watchmaking" will continue to inspire generations.
Evelyne Genta
Evelyne Genta, a citizen of Monaco, currently serves as a diplomat. Previously, she was for many years an outstanding business leader. As part of this innovative and international activity, Evelyne Genta managed the family company, supervising operations, finance, marketing and sales functions, as well as two factories with 250 employees in Switzerland. While her husband was totally committed to the creation of iconic models, she passionately developed new markets in Asia, Europe and the Middle East, devoting enthusiasm and energy to making the Gérald Genta name internationally famous. On the eve of the new century, they decided to sell the company. Today, Evelyne Genta lives in London and has just founded the Gérald Genta Heritage Association.
March 07, 2019