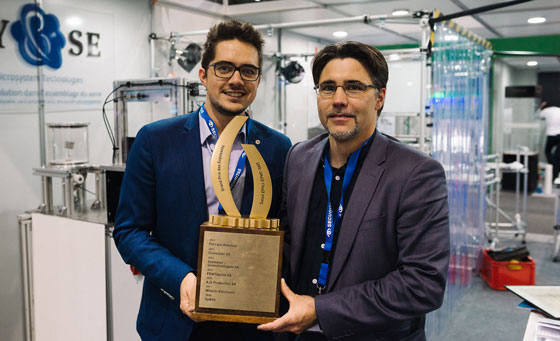 The SY&SE start-up (pronounced saï and si) appeared at the EPHJ with a mini-revolution in the field of component bonding – and therefore waterproofing.
A spin-off of the Haute Ecole Arc-Ingénierie (HE-Arc) and hosted by the Neode incubator, the young company has developed a glue-free assembly method applicable to materials with very different coefficients of expansion. This new technology, which surpasses current methods and opens up broad perspectives in the watchmaking, optics, electronics and medical sectors, has received the Exhibitors' Grand Prix of the EPHJ-EPMT-SMT, which recognises the best innovation at the show.
Microtechnology is part of the DNA of Neuchâtel's industrial and academic fabric. This field regroups a multitude of economic activities, of which the best-known beyond our borders is certainly watchmaking. It is precisely from this fertile breeding ground that SY&SE emerged: in collaboration with Cartier, whose watch Manufacture is also located in La Chaux-de-Fonds, the start-up has developed a low-temperature technique that makes it possible to bond metals and ceramics to sapphire crystals without adhesives. "There are currently two solutions for this operation," explains Bertrand Späth, business development manager: "glue or Anodic Bonding. However, the former deteriorates over time, while the latter, which uses an electric current, heats the material to 450°C and works only between glass and silicon."
SY&SE's technology, called ICB (Impulse Current Bonding), produces exceptional strong and close assemblies. It uses electrical pulses and is carried out at low temperature (less than 180°C), thus preserving the integrity of the materials. More than 20 of them can already be bonded to glass, such as stainless steel, titanium and aluminium alloys, sapphire, silicon and even zirconium oxide (ceramics).
While the watch industry is a natural outlet, many medical products are assembled and therefore compatible with ICB technology. Surgical instruments or endoscopes are in contact with the human body and should not bring pathogens. SY&SE's technology is also insensitive to sterilisation and disinfection treatments, whether chemical, thermal, by radiation or environmental.
July 06, 2018