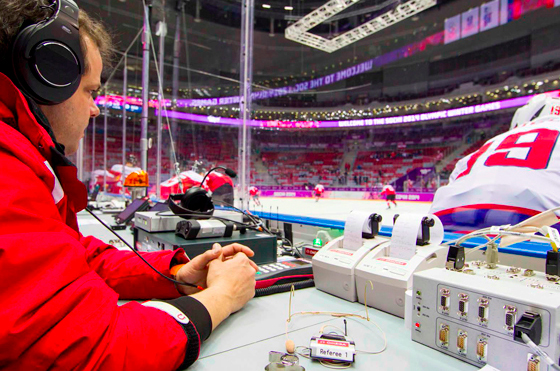 For the 28th time in its history, Omega played the role of official timekeeper for the Olympic Games held from February 9th to 25th in PyeongChang, South Korea. To help it perform this important "time judge" role, 300 technicians and 350 specially trained volunteers were on hand.
In addition, 230 tons of equipment, including 30 public and 90 sports scoreboards, as well as dozens of kilometres of calibres and optic fibre had to be dispatched and installed.

Movement detectors enabled Omega to keep track of all competitions from start to finish, thus enabling athletes to know their results immediately. From the real downhill racing speed of an alpine skier to the movements of ice hockey team players, the information provided lent a new dimension to each event. It also enabled spectators, whether in the stadium or their armchair, to get a detailed feel for the technical characteristics of each sport. This was the first time that such data was instantly available at the Olympic Games.

During these Games, Omega used – specifically for alpine skiing, figure skating, half-pipe and jumping competitions – Stromotion technology that broke down the action into sections and analysed each phase in great detail. Videos of the trajectories revealed the evolution of an athlete's movements or technique, enabling a fuller appreciation of the performance.

Another major innovation that has changed the face of timekeeping is Simulcan. This system has greatly enhanced replays in a number of competitions, such as alpine skiing, bobsleigh, skeleton, luge, ski jumping and Nordic combination events. Layering an image of one competitor over another makes it possible to compare both their technique and their performance.
March 01, 2018