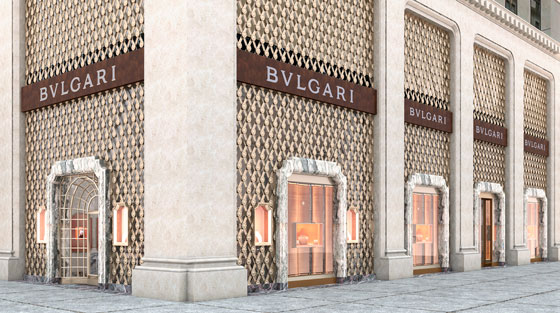 More than 40 years after the first store opened in New York, Bulgari renews its love for the vibrant city with the reimagining of the Fifth Avenue store, featuring a new architectural design concept specially developed by Peter Marino.


Reflected and reinterpreting the architectural elements of the house of Bulgari, the flagship store on Rome's Via Condotti, Peter Marino's design concept dedicated to New York draws on a timeless yet contemporary vision of Rome, combined with the integration of original details from the early 20th century.
The new store is a restyling of the shop opened in 1989 in one of the most strategic locations in Manhattan, on the corner of 5th Avenue and 57th Street, a true landmark of New York.

Reigning over the external façade of the skyscraper, the entrance door is a reproduction of the iconic 1930s Condotti door, complete with the hand crafted replica of the lantern hanging over the entrance of the Roman flagship store. The Aura Proportion design of the portal, recalling the Baroque architecure of Borromini in Rome, governs all the store windows. Symbolically moved from the Eternal City to New York, the Condotti door represents the starting point of a journey into the essence of the Bulgari way of life.

The outer look is also defined by a mesh inspired by the design of a historical 1930s bracelet clasp. The so called "rosetta" motif is reproduced on the facade in 1,980 bronzed flowers, hand-made in Italy and complemented by the same number of lights that can be used to create spectacular effects in countless combinations.

Once again bringing its Roman essence to the very heart of the city that never sleeps, on this special occasion Bulgari launches an exclusive jewellery capsule collection inspired by the energy, artistic boom and the color explosion of the time when the relationship with New York began: the eclectic 70s. These 33 jewellery masterpieces are a celebration of the bold spirit of America and of the fusion between Roman extravagance and New York avant-garde, yesterday and today.
November 02, 2017