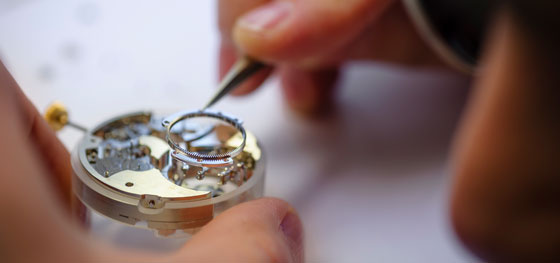 A triple record was achieved in 2015: 401 apprentices completed their watchmaking and micromechanical training.
This figure has more than doubled in ten years. Meanwhile the number of new contracts signed at the start of the 2015 academic year stood at 490; a figure also up compared to 2014. And among the new apprentices, 45% are completing their apprenticeship with a firm: a level never before attained in the sector.

A rising tide of qualified apprentices for the watch industry: whereas in 2005, 191 people embarked on a career in the industry, in 2015 there were 401, more than double. This considerable growth is the result of numerous efforts made by training enterprises and the Employer's Federation of the Swiss watch industry (CP) in the field of training. It means that today, firms' requirements for qualified personnel are by and large being met.

These figures relate to seven professions (watchmaking operator, production watchmaker, watch repairer or specialist in industrial methods, micromechanic, designer, polisher, specialist in finishing work) leading to a Federal certificate of capacity (CFC) or a Federal vocational training certificate (AFP). These professions, which fall under the purview of the CP, cover the main stages of production of a timepiece, from the design of plans to the manufacture of components, including assembly and timing of the movement. They are taught at seven training establishments located in the Jura watchmaking region: Bienne, Geneva, Granges, Le Locle, Le Sentier, Porrentruy and Saint-Imier.

Watch industry professions continue to attract young people. In 2015, 490 new apprentices began their apprenticeships in the watchmaking and microtechnology sector, compared to 472 in 2014. This increase of 3.8% is due mainly to an increase in the number of micromechanics (110 new apprentices, +26%). The newly updated courses of CFC production watchmaker and CFC watchmaker are among the most popular, with 109 and 149 apprentices respectively; at the same time, these courses are registering the largest upturns in dual apprenticeships (learning at training establishments and with firms).

On this point, it is pleasing to note that the share of apprentices signing contracts with a firm (dual apprenticeship) continues to rise. Indeed, the proportion of dual apprenticeships has passed the 45% mark (compared to 43% in 2014) and continues to gain ground; it was only 25% ten years ago.

In absolute terms, 221 young people will learn their profession with a firm, compared to 269 studying full-time at a vocational college.

In view of the economic downturn observed in recent months, a drop in the number of new apprentices was to be feared. The upswing we have observed indicates that firms regard training as a long-term investment.
February 25, 2016